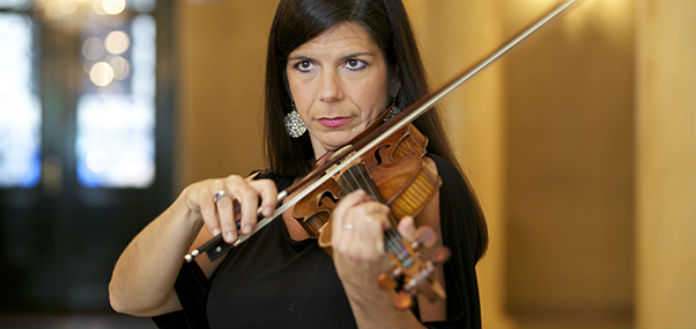 The Violin Channel recently caught up with respected violinist and pedagogue Pamela Frank, from the Curtis Institute of Music, where she discussed, for her, the  'Do's and Don'ts of Learning a New Concert Work'.
"I think it's important for all of us to be independent thinkers," Pamela has told us, " ...using recordings as a learning tool is a very dangerous thing!"
[video_lightbox_youtube video_id="3FuUalZibV4" width="590" height="385" auto_thumb="1"]
PAMELA FRANK | CURTIS INSTITUTE OF MUSIC | 'THE DO'S AND DON'TS OF LEARNING A NEW WORK'
"I thought I would talk to you today about how to learn a new piece of music. I think it's important for us to all be independent thinkers - and not be totally reliant on our parents, our teachers and how other people play the music.
I think it's necessary for us to develop our own voice so that the future of music is guaranteed - or all that we are doing is regurgitating somebody else's ideas.
And for me, it's very important to put whatever piece it is that I am learning into a much larger context.
Try to learn everything about the composer, what else was going on in the world at that time, and what was going on in other areas of art and culture - because the more information you have, the more you can interpret it.
In other words if the piece was written after the composer's mother's death - that would inform your interpretation. If it was written at the same time as a huge breakthrough in visual art that might also inform your interpretation.
Getting the bigger context is vital.
And I feel very strongly that we should not be learning with records.
I have no objection to getting a cross section of interpretations after i have really thought out and worked out what i am going to do with the piece. And, I have no problem listening to other versions of the same piece after i have performed something for the first time, but I think using recordings as a learning tool is a very dangerous thing - as nobody is imperious to being influenced and I think recordings subconsciously colour your own thinking.
For me, the most important thing is to take the score - the score is the bible.
The score allows you to see the rhythm, texture, meter, markings, dynamics, tempos, voicing and orchestration - and provides you a lot of information visually.
It's like a map - which allows you to see the emotion. Every piece that i know well i have learnt firstly with the score.
Try and learn the notes last; learn the music first! You can get all your ideas from looking at the score - articulation, sound, colour, tempo, which string to use, inflection and nuance.
Then when you finally start to work on the piece instrumentally, you already have so many ideas in place that your hands are simply following your head and your heart — which for me would make a much better interpretation than just learning the notes first.
You don't learn the notes first and the music later - and you don't become an artist on stage either. Everything has to be worked on simultaneously."
International violinist Pamela Frank has performed extensively with many of world's finest orchestras and conductors | She currently serves the Herbert R and Everlyn Axelrod Rod Chair in Violin Studies at the Curtis Institute of Music, in Philadelphia – where she has taught since 1996.