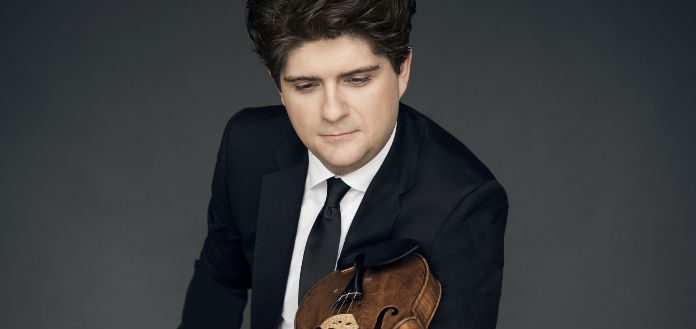 25-year-old Russian-born, French violinist Fedor Rudin is firmly establishing himself as one of the new generation's most exciting and gifted young concert soloists – praised for his maturity, virtuosity and profound musicality.
A graduate of Pierre Amoyal at the Mozarteum University of Salzburg and Zakhar Bron at the Cologne High School of Music, Fedor is a former major prize winner at the Paganini & Enescu, Marteau, Khachaturian, Lipizer, and Qingdao International Violin Competitions.
His recent debuts include performances with the Basel Symphony Orchestra, Orchestre de Cannes, Cape Town Philharmonic, Petrobras Symphony, Paris Chamber Orchestra and the Nurnberg Symphony – and prestigious recital engagements at the Tonhalle Zurich, Paris Philharmonie and Berlin Konzerthaus.
He currently performs on a 1779 Lorenzo Storioni violin – on generous loan from the Deutsche Stiftung Musikleben Foundation, in Hamburg.
VC YOUNG ARTIST FEDOR RUDIN | SIBELIUS VIOLIN CONCERTO | MICHAEL ZLABINGER & ORCHESTRA DEL TEATRO CARLO FELICE | 2018 PAGANINI INTERNATIONAL VIOLIN COMPETITION
VC YOUNG ARTIST FEDOR RUDIN | WIENIAWSKI VIOLIN CONCERTO NO.1 IN F SHARP MINOR | GIANCARLO GUERRERO & ORCHESTRE SYMPHONIQUE DE MONTREAL | 2016 MONTREAL INTERNATIONAL VIOLIN COMPETITION
VC YOUNG ARTIST FEDOR RUDIN | MOZART VIOLIN CONCERTO NO. 7 IN D MAJOR  | MUNICH CHAMBER ORCHESTRA | 2017 ARD INTERNATIONAL VIOLIN COMPETITION
VC YOUNG ARTIST FEDOR RUDIN | PAGANINI VIOLIN CONCERTO NO. 1 IN D MAJOR | MICHAEL ZLABINGER & ORCHESTRA DEL TEATRO CARLO FELICE | 2018 PAGANINI INTERNATIONAL VIOLIN COMPETITION
VC YOUNG ARTIST FEDOR RUDIN | VIVALDI | THE FOUR SEASONS | NATIONAL CHAMBER ORCHESTRA OF ARMENIA | 2017
VC YOUNG ARTIST FEDOR RUDIN & JANELLE FUNG | FAURÉ | ROMANCE | 2016 MONTREAL INTERNATIONAL VIOLIN COMPETITION
FEDOR RUDIN & JANELLE FUNG | PAGANINI I I PALPITI | 2016 MONTREAL INTERNATIONAL VIOLIN COMPETITION
Name: Fedor Rudin
Violin: 1779 Lorenzo Storioni
Bows: Voirin | Sartory
Accessories: Thomastik Peter Infeld Rosin
Teacher: Pierre Amoyal | Zakhar Bron
Comments
comments