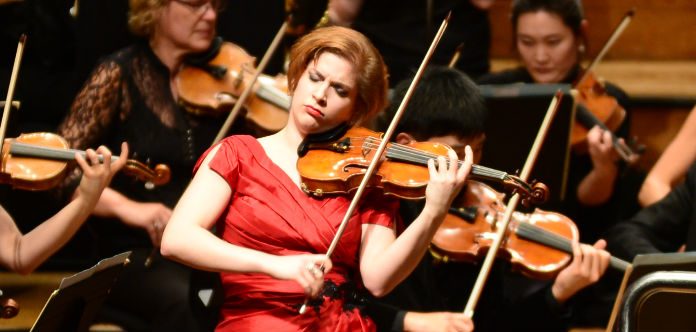 25-year-old Romanian-born violinist Ioana Cristina Goicea is quickly building an international reputation as one of the new rising stars of the international concert stage – praised for her maturity, conviction and profound musicality.
A major prizewinner at the Johannes Brahms, Andrea Postacchini, Valsesia Musica,  Fritz Kreisler and Indianapolis International Violin Competitions – Ioana was recently awarded 1st prize at the 2017 Michael Hill International Violin Competition, in Auckland, New Zealand.
A graduate of the Leipzig University of Music and the Rostock University of Music, she is currently completing post-graduate studies with Krzysztof Wegrzyn at the University of Music in Hannover.
Ioana currently performs on a 1761 Giambattista Guadagnini – on generous loan from the Deutsche Stiftung Musikleben Foundation in Hamburg.
VC YOUNG ARTIST IOANA CRISTINA GOICEA | SHOSTAKOVICH | VIOLIN CONCERTO NO. 1 IN A MINOR | 4TH MVT | LEONARD SLATKIN & INDIANAPOLIS SYMPHONY ORCHESTRA | 2018 INTERNATIONAL VIOLIN COMPETITION OF INDIANAPOLIS 
VC YOUNG ARTIST IOANA CRISTINA GOICEA | MOZART | VIOLIN CONCERTO NO. 5 IN A MAJOR | 3RD MVT | EAST COAST CHAMBER ORCHESTRA | 2018 INTERNATIONAL VIOLIN COMPETITION OF INDIANAPOLIS
VC YOUNG ARTIST IOANA CRISTINA GOICEA | KREISLER | LA GITANA | EAST COAST CHAMBER ORCHESTRA | 2018 INTERNATIONAL VIOLIN COMPETITION OF INDIANAPOLIS
VC YOUNG ARTIST IOANA CRISTINA GOICEA & CHIH-YI CHEN | RAVEL | TZIGANE | 2018 INTERNATIONAL VIOLIN COMPETITION OF INDIANAPOLIS
VC YOUNG ARTIST IOANA CRISTINA GOICEA & CHIH-YI CHEN | MENDELSSOHN | SONG WITHOUT WORDS NO. 1 (ARR. KREISLER) | 2018 INTERNATIONAL VIOLIN COMPETITION OF INDIANAPOLIS
VC YOUNG ARTIST IOANA CRISTINA GOICEA & CHIH-YI CHEN | BEETHOVEN | VIOLIN SONATA NO. 7 IN C MINOR | 1ST MVT | 2018 INTERNATIONAL VIOLIN COMPETITION OF INDIANAPOLIS
VC YOUNG ARTIST IOANA CRISTINA GOICEA & CHIH-YI CHEN | BEETHOVEN | VIOLIN SONATA NO. 7 IN C MINOR | 3RD MVT | 2018 INTERNATIONAL VIOLIN COMPETITION OF INDIANAPOLIS
VC YOUNG ARTIST IOANA CRISTINA GOICEA & CHIH-YI CHEN | BEETHOVEN | VIOLIN SONATA NO. 7 IN C MINOR | 4TH MVT | 2018 INTERNATIONAL VIOLIN COMPETITION OF INDIANAPOLIS
VC YOUNG ARTIST IOANA CRISTINA GOICEA | TCHAIKOVSKY VIOLIN CONCERTO | 2017 MICHAEL HILL INTERNATIONAL VIOLIN COMPETITION
VC YOUNG ARTIST IOANA CRISTINA GOICEA & JIAN LIU | PROKOFIEV| SONATA NO. 1 IN F MINOR | 2017 MICHAEL HILL INTERNATIONAL VIOLIN COMPETITION
VC YOUNG ARTIST IOANA CRISTINA GOICEA | MOZART | QUINTET IN G MINOR, K 516 | 2017 MICHAEL HILL INTERNATIONAL VIOLIN COMPETITION
VC YOUNG ARTIST IOANA CRISTINA GOICEA | BARTOK | SOLO SONATA | 1ST MVT | 2017 MICHAEL HILL INTERNATIONAL VIOLIN COMPETITION
Name: Ioana Cristina Goicea
Violin: 1961 Gianbattista Guadagnini – Kindly Loaned by the Deutsche Stiftung Musikleben Foundation Hamburg
Bow: W.E. Hill & Sons | Heinz Dölling
Teachers: Krzysztof Wegrzyn, Mariana Sirbu and Petru Munteanu
PHOTO CREDIT: SHEENA HAYWOOD
Comments
comments