Wigmore Hall International String Quartet Competition Announces Winners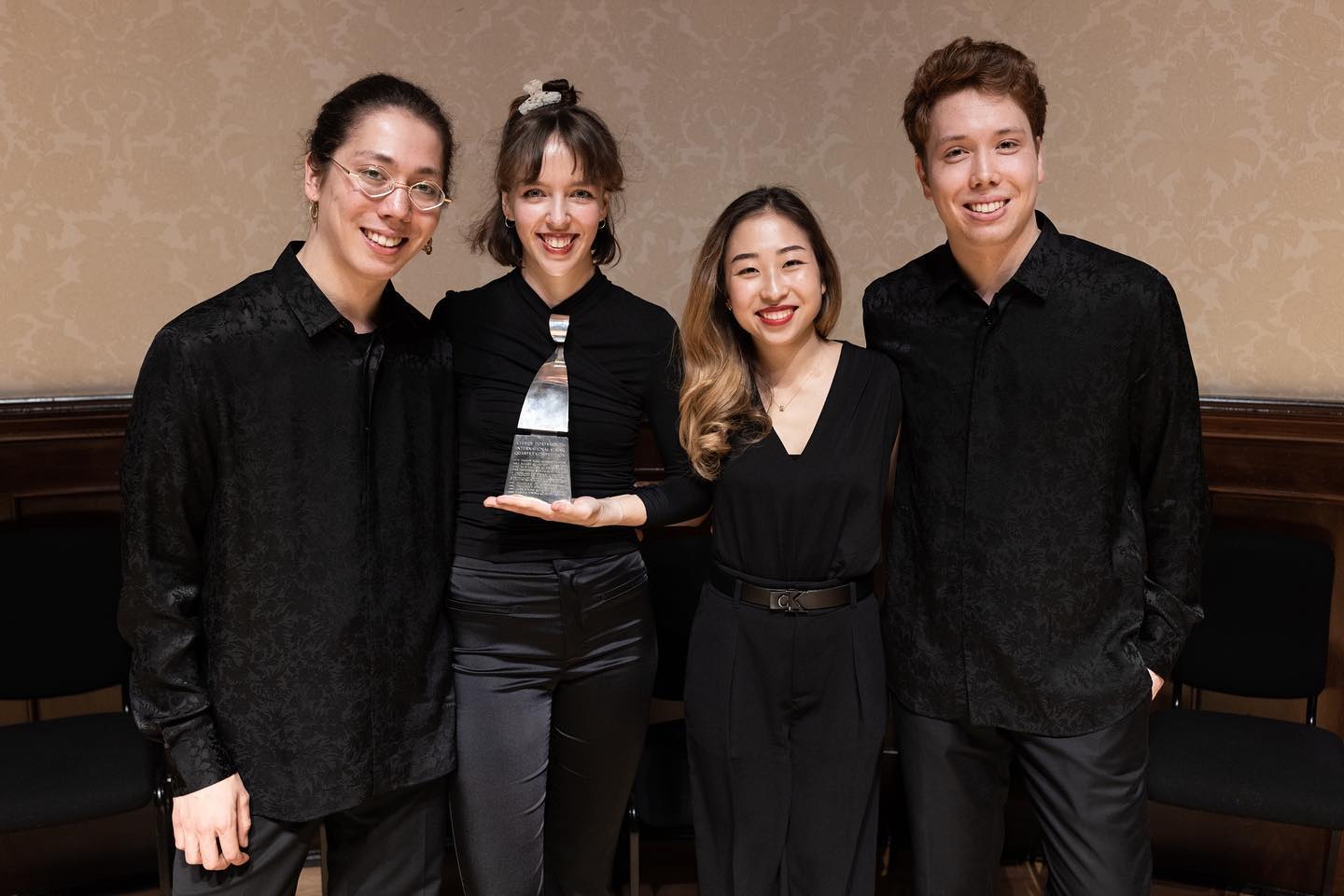 (Photo courtesy: Leonkoro Quartet)
The 2022 Wigmore Hall International String Quartet Competition was held between April 5-10, 2022. This year's prizes are as follows:
First Prize (£10,000): Leonkoro Quartet
Second Prize (£6,000) – Adelphi Quart
Third Prize (£3,000) – Affinity Quartet
The Leonkoro Quartet also received The Bram Eldering 19th Century Prize, The Sidney Griller Award, The Haydn Prize, The Alan Bradley Mozart Prize, and the Twentieth Century Prize.
In addition to £10,000, the first prize winners received the Avaloch Farm Music Institute Residency, Banff Centre for Arts and Creativity Residency Prize, MISQA Prize, and ProQuartet Prize — in addition to a recital opportunity at Wigmore Hall and a UK tour.
The 2022 jury consisted of John Gilhooly (Chairman), Jonathan Brown, Hélène Clément, Simin Ganatra, Louise Hopkins, Laura Samuel, and Kyril Zlotnikov.
Founded in 1979, and hosted triennially, the competition's former first prize winners include the Van Kuijk, Arcadia, Danish, Formosa, Atrium, Hagen, and Takács String Quartets.
The Leonkoro Quartet is comprised of Jonathan and Lukas Schwarz on first violin and cello, respectively, with Amelie Wallner on second violin and Mayu Konoe on viola.
The group is a former prize winner at the Premio Paolo Borciani Competition, Chamber Music Competition of the Alice Samter Foundation, and Ton und Erklärung competition of the Kulturkreis der Deutschen Wirtschaft.
In 2022, they received the music prize of the Jürgen Ponto Foundation, which is awarded every two years to an outstanding string quartet.
"We are so very humbled to have been awarded the First Prize, 8 special prizes, and several residencies including the Banff Centre for Arts and Creativity in Canada, Aveloch Farm Music Institute in the US, and Esterházy Palace in Austria at the 2022 Wigmore Hall International String Quartet Competition," the quartet wrote on its social media. "We had a fantastic week and are very excited to come back to play in this beautiful hall again soon!"
"From the bottom of our hearts, we'd like to thank our mentors, family, and friends for their continuous support, and the competition staff for going out of their way to make us feel comfortable during the entire period."