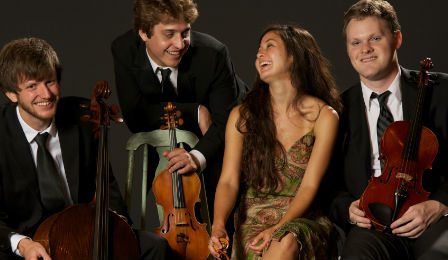 The 6 Semi-Finalists have today been announced at the 2015 Wigmore Hall International String Quartet Competition, in London.
The 2015 Semi-Finalists are:
Aeolus Quartet (USA)
Aizuri Quartet (USA)
Alinde Quartett (Germany)
Piatti Quartet (United Kingdom)
Van Kuijk Quartet (France)
Verona Quartet (USA)
The Final Round will be held on Sunday 29th March – with this year's 1st prize winning ensemble to receive £10,000 (US $15,000).
This year's jury comprises: Chairman John Gilhooly, Levon Chilingirian, Valentin Erben, Peter Jarusek, Heime Mullter, Lesley Robertson, Simon Rowland-Jones, Alasdair Tait, Mark Braithwaite, Simone van der Giessen, Donald Grant, Oliver Heath.
PICTURED: 2015 Wigmore Hall International String Quartet Competition Semi-Finalists, The Aeolus Quartet