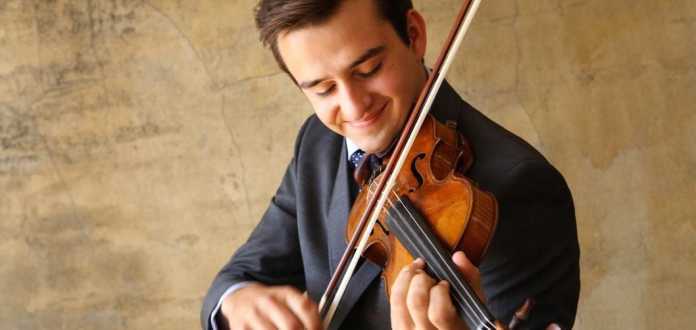 VERBIER, SWITZERLAND – With the world renowned Verbier Festival currently in full swing in the Swiss Alps, The Violin Channel recently caught up with a number of former participants to get a better understanding of their time at the music festival – and the career-changing opportunities the annual event has presented.
2015 Verbier Academy member, American VC Young Artist William Hagen guest blogs about his eventful experience:
"I attended the Verbier Academy last summer, in 2015, and I had a fantastic experience.
First of all, the scenery is breathtaking. It really is a beautiful place, with massive snow-capped mountains on all sides. It is a pleasure to be surrounded by that kind of beauty every day. 
Musically, Verbier is so inspiring. Every single day, there are multiple concerts featuring some of the most famous and respected musicians in the world. A big problem I had at the festival was trying to decide which concert to go to each night. I remember having to decide between watching Zubin Mehta conduct Mahler or watching Joshua Bell and other stars play a chamber music concert. In retrospect, I guess that's not such a bad problem to have! I learned so much from watching these great musicians perform. 
I also learned so much from the great violin teachers that came for the masterclasses and the great chamber music coaches who coached our piano quartets. In 2015 the violin teachers were Ana Chumachenco and Boris Kuschnir, and the chamber coaches were Gabor Takács-Nagy, Menahem Pressler, Pamela Frank, and Ferenc Rados. I had really helpful and interesting lessons with both of the violin teachers, and my group and I had great chamber music coachings. 
All of the students at Verbier are so talented, and it was really interesting to watch a fellow violinist give a fantastic performance and then be critiqued by one of these great teachers. The chamber music was a blast because everyone in my group (and every other group) was so good, we played great music together, and we had the opportunity to play for some of the best chamber musicians in the world. 
There is zero time to practice at Verbier, but it doesn't matter at all. The Verbier Academy is two weeks of musical paradise in a beautiful place. Practicing can wait two weeks. 
As I mentioned earlier, the level at the Academy is outstanding, and it's really inspiring to be amongst all that talent. After the Academy, we (the students) have stayed in pretty good touch, and I have been watching success after success happen for people that I attended the Academy with. Competition wins, big performances, being signed to management agencies... It's really fun to watch everyone doing so well. 
I would highly recommend the Verbier Academy to anyone, and I count myself lucky to have had such a great experience. 
Oh, and the fondue is DELICIOUS!
-Will"
A graduate of The Juilliard School and The Colburn School, where he studied with Itzhak Perlman and Robert Lipsett, VC Young Artist William Hagen is a former major prize winner at the Fritz Kreisler and Queen Elisabeth International Violin Competitions. His recent solo debuts include performances St. Louis Symphony, Fort Worth Symphony, Jacksonville Symphony Orchestra, Utah Symphony, Belgium National Orchestra, Aspen Philharmonic and the Sendai Philharmonic Orchestra.