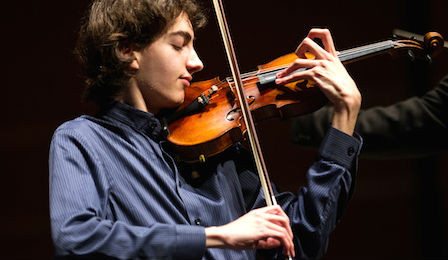 Applications for the 2016 Yehudi Menuhin International Violin Competition, to be held in London 7-17th April, are set to close on October 31st, 2015.
Widely recognised as the world's leading competition for violinists under the age of 22, previous 1st prize winners include VC 'Artists' Ray Chen, Chad Hoopes, Hrachya Avanesyan, So-Young Yoon, Xiang Yu and Stephen Waarts – and VC 'Rising Stars' Kevin Zhu, Rennosuke Fukuda and Kerson Leong.
[video_lightbox_youtube video_id="o6zLXsii1z0" width="590" height="385" auto_thumb="1" ]
STEPHEN WAARTS | PROKOFIEV VIOLIN CONCERTO NO. 2 | 3RD MVT | 2014 MENUHIN COMPETITION | SENIOR 1ST PRIZE
The 2016 jury will comprise: Chairwoman Pamela Frank, former laureates Julia Fischer, Ray Chen, Tasmin Little, Ning Feng and Joji Hattori – and pianist Jermey Menuhin, violinist Dong-Suk Kang and Verbier Festival Director, Martin Engstroem.
"It is wonderful that the prestigious Menuhin Competition is coming back to London in 2016, the centenary year of the great maestro. This exciting showcase of some of the best young violinists from across the globe will be a feast for music fans, which I hope will inspire other gifted young people in the capital and across the country," London's Mayor Boris Johnson has said.
As the competition's official 2016 media partner, The Violin Channel will be providing exclusive rolling-coverage - live from all venues. You won't miss a beat!
For application details, visit: www.menuhincompetition.org
PICTURED: 2014 Menuhin Competition Senior 1st Prize Winner, VC 'Young Artist' Stephen Waarts, from Holland/United States