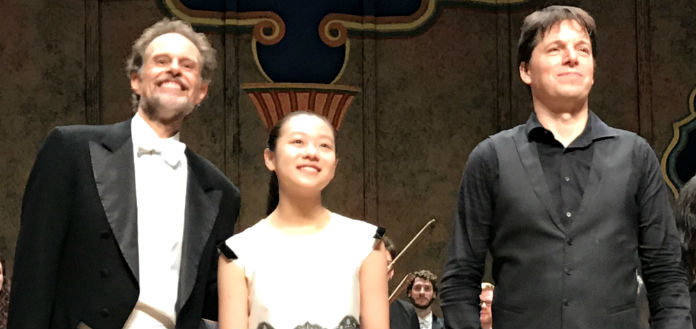 The Violin Channel recently caught up 14 year old VC Rising Star, violinist Yesong Sophie Lee - who earlier this month made her professional debut, performing Bach's Double Concerto with superstar violinist Joshua Bell, conductor Steven Smith and the Richmond Symphony Orchestra.
In a VC-exclusive blog, Sophie talks us through her memorable collaboration.
Just now at the Carpenter Theatre -- Joshua Bell & Yesong Sophie Lee performing Bach's Concerto in D Minor for Two Violins and String Orchestra, BWV 1043. In front of a sold out audience. Stunning. #rvasymphony #joshuabell #yesongsophielee #symphonyat60

Posted by Richmond Symphony on Thursday, 14 September 2017
"About a month ago, I was presented with the amazing invitation to perform at the opening night gala concert of the Richmond Symphony. When I first received it, I was overwhelmed with the unbelievable opportunity to play with Joshua Bell. Not only would I get to play with Joshua, I would get to play one of my favorite pieces: the Bach Double Concerto.
I had studied the first movement of this concerto when I was about six years old with my first teacher Jan Coleman. After the initial excitement calmed down, I realized it was quite an adventure to get the whole concerto into my fingers. But with the support of my parents and my current teacher, Simon James and coach, Hiro David, I learned all the intricacies of the movements including the structure, pacing, and the dialogue between the soloists. I became very comfortable with the concerto and grew to love it on a more intimate and knowledgeable level. I love Bach in any form and every way and this was another wonderful experience learning his music.
I arrived past midnight in Richmond, Virginia, and the symphony was so kind to have one of their staff members come and drive us to our hotel. Later that day, another staff member drove us to the Carpenter Theater (where the concert would take place) for a mini-interview and gave us a tour around the building. It was so large and maze-like, I was always getting lost and I couldn't even find my way to the dressing rooms or even backstage, but that might have been because of my terrible sense of direction. Right after that, the staff member drove us to the WCVE station for an interview with Mike Goldberg. I had so much fun with him; it felt like we were just having a nice conversation instead of an interview. I got a really cool tour of the TV station and what I liked especially was seeing the life-sized PBS dolls of characters like Arthur, Cookie Monster, Elmo, and more. They were adorable!
On the next day, I finally got to meet Joshua Bell. He was super nice and sweet and I felt immediately comfortable working with him. Our dressing rooms were right next to each other and I thought that was so cool and amazing! It makes me smile every time I think about it that when I was little I stood in a really long line to get Joshua's autograph after his concert, and now I actually got to play with him.
Our conductor Steven Smith and the whole Richmond Symphony was completely supportive and helpful. It was such a great experience! The concert itself was so enjoyable I was loving every single moment of it. And when we finished the Bach concerto, I was actually very sad that the piece had already come to an end. I kept thinking, "I want to go back on stage with Joshua to play again!" And I hope that I will be able to do that sometime soon!
All in all, it was such a wonderful experience and I felt tremendously lucky that I was able to stand on that great stage surrounded by great musicians. This will definitely be one of the most memorable experiences that I will cherish forever.
-Sophie"