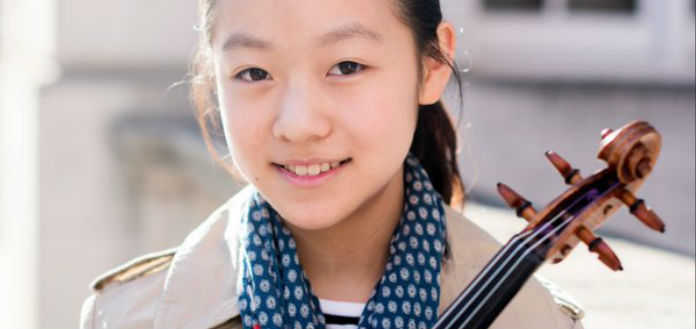 12 year old violinist, Yesong Sophie Lee from the United States is quickly building an international following as an emerging young virtuoso of outstanding potential.
A student of Simon James, Hiro David and Jan Coleman in Seattle, Sophie is a former 1st prize winner at the 2015 American MTNA National Junior Strings Competition – and was recently awarded 1st prize at the 2016 Junior International Menuhin Competition, in London.
She currently serves as Concertmaster of the Seattle Youth Symphony Orchestra – and has made several solo engagements with the Seattle Symphony Orchestra.
YESONG SOPHIE LEE | VIVALDI | L'ESTATE FROM 'LE QUATTRO STAGIONI' | YEHUDI MENUHIN ORCHESTRA | 2016 MENUHIN INTERNATIONAL VIOLIN COMPETITION
YESONG SOPHIE LEE & TADASHI IMAI | GRIEG | SONATA NO. 1 | 1ST MVT | 2016 MENUHIN INTERNATIONAL VIOLIN COMPETITION
YESONG SOPHIE LEE | WIENIAWSKI | ETUDE-CAPRICE OP. 18, NO. 3 | 2016 MENUHIN INTERNATIONAL VIOLIN COMPETITION 
YESONG SOPHIE LEE & TADASHI IMAI | BEETHOVEN | SONATA NO. 8 | 1ST MVT | 2016 MENUHIN INTERNATIONAL VIOLIN COMPETITION
YESONG SOPHIE LEE | WAXMAN | CARMEN FANTASY | 2016 MENUHIN INTERNATIONAL VIOLIN COMPETITION
YESONG SOPHIE LEE | I BOSCH | SHPIGL FOR SOLO VIOLIN | 2016 MENUHIN INTERNATIONAL VIOLIN COMPETITION
Name: Yesong Sophie Lee 
Violin: Camillius Camilli of Mantua
Bow: Charles Peccatte
Teacher: Simon James, Hiro David
Comments
comments