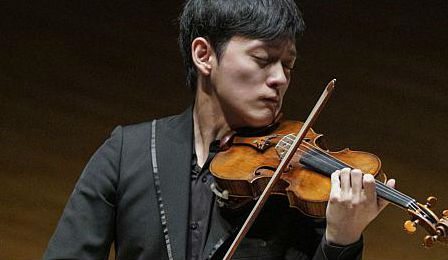 20 year old VC 'Young Artist' Yu-Chien Benny Tseng from Taiwan, has just minutes ago been awarded 1st prize at the 2015 inaugural Singapore International Violin Competition.
2nd Prize and the special prize for the 'Best Recital Performance' was awarded to 23 year old VC 'Young Artist' Richard Lin from Taiwan.
3rd prize and the special prizes for the 'Best Performance of a Paganini Caprice' and the 'Best Performance of the Competition's Set Work' was awarded to Sirena Huang from the United States.
A student of Aaron Rosand and Ida Kavafian at the Curtis Institute of Music, Benny is a former top prize winner at the Sarasate, Paganini and Isang Yun International Violin Competitions – and was awarded 5th laureate at the 2012 Queen Elisabeth International Violin Competitions, aged just 17.
He will receive an unprecedented US $50,000, a CD recording with the Naxos label, the 3 year loan of a fine instrument from the Mr & Mrs Rin Kei Mei collection and a number of significant international performance opportunities – including solo engagements with the London Philharmonic, Czech Philharmonic Orchestra and the West Australian Symphony Orchestra.
4th prize was awarded to 26 year old VC 'Young Artist' Alexandra Conunova from Moldova.
5th prize, and the special prize for the 'Best performance of a Bach Sonata' was awarded to 17 year old Hyun Jae Lim, from South Korea.
6th prize was awarded to 22 year old VC 'Young Artist' Fedor Rudin from France.
1st Round, Semi-Final and Final Round performances available at: http://bit.ly/14HV21S