BREAKING | Legendary Yale Cello Teacher Aldo Parisot Has Retired - After 60 Years On Faculty
99-year-old legendary cello pedagogue Aldo Parisot has officially retired from his position on faculty at the Yale School of Music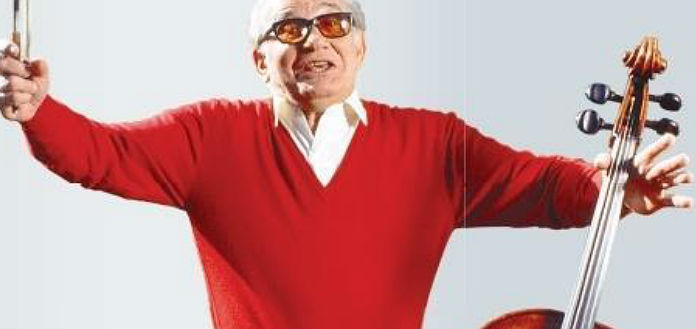 It has been announced today that 99-year-old legendary Brazilian-born American cello pedagogue Aldo Parisot has officially retired from his position at the Yale School of Music - after 60 years on faculty.
"The presence of Aldo Parisot in the School of Music has been transformative and transcendent ..." Yale School of Music Dean Robert Blocker has said today.
"His strongly held opinions about artistic excellence have led generations of faculty and students to carefully consider their points of view about music making ... but with his rigorous intonements came a palpable love for the beauty of music - and what it means to our lives," he has said.
A graduate of Yale University, Mr Parisot joined the music school teaching faculty in 1958 - also later holding distinguished teaching positions at the Peabody Conservatory, Mannes College of Music, The Juilliard School and the New England Conservatory.
"Aldo Parisot is the best cello teacher I have met in my life ...  he marvelously combines issues of mechanical problems with musical and performing details," the-late celebrated Hungarian-born cello virtuoso Janos Starker had said.
Mr Parisot's famed students have included New York Philharmonic Principal Cellist Carter Brey, London Symphony Principal Cellist Tim Hugh, Ralph Kirshbaum, Jesús Castro-Balbi, Shauna Rolston, Bion Tsang, Han-na Chang, Robert deMaine, Johann Sebastian Paetsch and Jian Wang.
"As a teacher, mentor, and for the past 50 years cherished friend, Aldo Parisot has made an indelible impression on my life and the lives of countless others fortunate enough to have been challenged, motivated, and inspired by his instinctive and passionate love of music ..." Acclaimed American cellist Ralph Kirshbaum has told The Violin Channel.
"His retirement after 60 years of loyal, dedicated, and remarkably productive service to Yale University and the broader musical community is richly deserved, as are the accolades that accompany it ..." he has said.
"Legendary status is assured as, on a personal note, is my enormous respect, admiration, gratitude, and love for this remarkable man." 
"The secret to staying young is to surround yourself with the younger generation ... it is boring to talk to the elderly about their blood pressure and cholesterol levels," Mr Parisot told The New York Times in 2009.