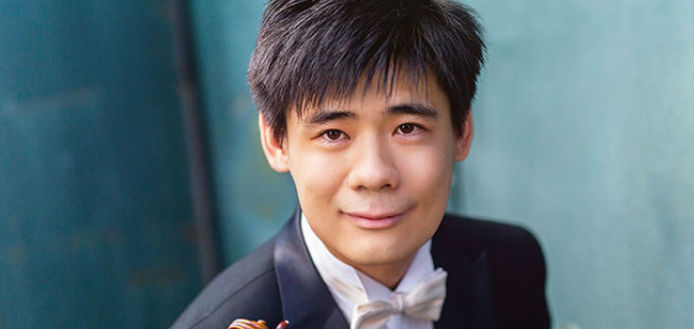 28-year-old violin virtuoso, VC Artist Angelo Xiang Yu has today been announced as 1 of 10 recipients of the 2019 Lincoln Center Awards for Emerging Artists - in New York City.
The annual prizes honour outstanding artistry and serve to acknowledge the promising future of selected performers within the 11 resident organisations of the Lincoln Center.
The 2019 recipients are:
Violinist VC Artist Angelo Xiang Yu

Dancer and actress Mikaela Bennett
Dancer Savannah Durham
Composer and sound artist Ashley Fure
Actor Nadine Malouf
Bassist Endea Owens
Soprano Gabriella Reyes
Musician Adam Tendler
Dancer Sebastian Villarini-Velez
Filmmaker Eduardo Williams
A graduate of the New England Conservatory, where he studied with Donald Weilerstein, Miriam Fried and Kim Kashkashian, Angelo is a former prize winner at the Michael Hill and Wieniawski International Violin Competitions – and former 1st prize winner at the Menuhin Competition.
VC ARTIST ANGELO XIANG YU & DINA VAINSHTEIN | SCHUBERT | FANTASY IN C MAJOR | 2014
Each of the 2019 awardees will receive US $7,500 - to be used for career advancement.
In addition, Nadine Malouf and VC Artist Angelo Xiang Yu will each be awarded the 2019 Martin E. Segal Award - for exceptional artistry.
"The Lincoln Center Awards for Emerging Artists demonstrate the continued commitment of Lincoln Center's resident organizations to furthering excellence in the performing arts," Lincoln Center Acting President Russell Granet has said.
"The arts are fundamental to our world, and we are proud to support the next generation of artistic leaders," he has said.
The awards will be presented as ceremony on the 27th of February - at the Lincoln Center.