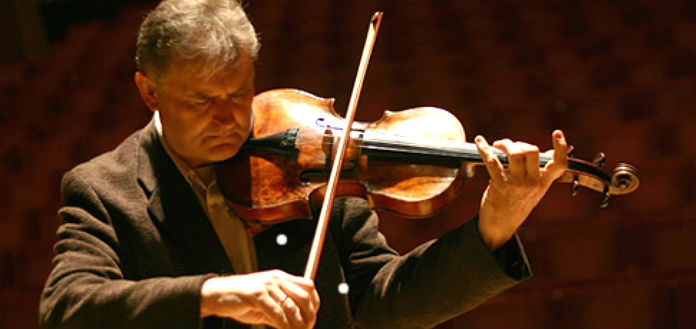 The Violin Channel recently caught up with Rice University Shepherd School of Music viola pedagogue and technique book author, Professor Ivo-Jan van der Werff.
In a VC-exclusive blog, Ivo discusses the inspiration behind his viola technique book, 'A Notebook for Viola Players' - and what he hopes students will take from its use.
"I was very fortunate to study with the great violist and pedagogue, Bruno Giuranna. As well as being an outstanding, thoughtful and inspirational musician and teacher, he also had a wonderful and simple approach to viola technique based on relaxation, flexibility and efficiency.
All of our lessons were in a class situation. I remember nervously playing my first open string in front of 15 other students in Detmold, Germany. It was horrible, but Bruno worked on me, telling me where my tension was, telling me where to release, telling me to breathe. Fifteen minutes later I was making the best sound I'd ever produced, still nervous, but really enjoying the full resonance, depth and color of my instrument.
He had developed a series of basic bowing and left hand exercises which we all learned together in class, watching others then trying for ourselves. Many years later, while I was a Professor at the Royal College of Music in London, I was teaching a number of new students one on one, not in a class, and going over the same exercises in each lesson. With the wish to be more efficient I decided to make life easier and write down the exercises myself to give to the students. A couple of years later I had a thought that, while there are many wonderful books on violin technique which violists use, there was extremely little purely for the violist. So, I decided to write sections on the basics such as posture, bow hold, left hand etc. All violists use the violin studies of Sevcik, Schradiek, Kreutzer etc and, while they are invaluable, one needs a teacher for guidance. I felt a few words and ideas, with photos and a dvd recording of parts of the exercises, could give any violist more information about how to approach viola playing and give an idea of how to solve the many technical challenges we face.
Before I even considered publishing this as a book, I wrote to Bruno and sent him a draft copy. He had always been adamant he would never write down his own exercises but he very generously allowed me to do so. Thus the book came about with the exercises I learned directly from Bruno plus additional exercises and ideas I had developed on my own through many years of performing and teaching.
The most important time for basic technical development is in the practice room, and the way a student practices can determine how quickly he or she will improve. It is my hope that 'A Notebook for Viola Players' can help focus a students mind on how to approach issues, how to solve them and what the goals should be. Not all the answers are there, obviously there are many approaches and ways of doing things, but, my main goals are to make a student think for themselves while helping them develop a left hand technique that is fluent, stable and dextrous along with the best sound possible, something which involves every part of the body, not just the bow arm. Even if a violist might not completely agree with my approach, I hope the book will make them consider why they play in the way they do and, most importantly, be prepared to experiment and try things out.
-Ivo-Jan"
Professor Jan van der Werff performed internationally for over 28 years as a member of famed Medici String Quartet - and has served long term teaching positions on faculty at London's Royal College of Music and Rice University's Shepherd School of Music | He is the author of the repsected viola exercises and technique book: 'A Notebook for Viola Players'