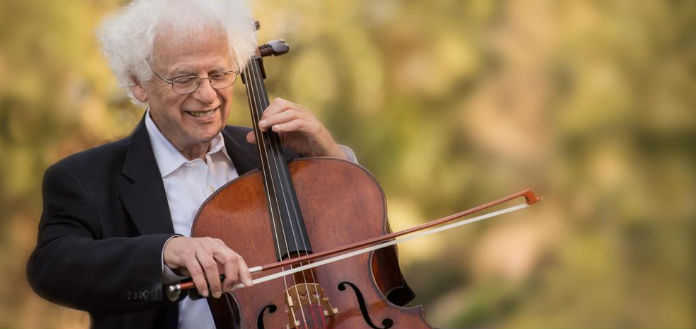 The Violin Channel member Matthew Boon, from the United States, was keen to know: 'What is the best way to warm up before a lesson or a performance?'
We threw Matthew's question over to New England Conservatory distinguished cello pedagogue, Professor Laurence Lesser:
"I think warming up before a lesson and before a concert are two quite different things. Let me answer you in that order!
When you come to a lesson, not only should you have practiced what you are bringing, but you should have assessed where you need more input to help you toward your goal. Of course you want to play in a way that will satisfy your teacher. But often the most interesting product of the encounter will be achieved by coming with questions and frank expression of difficulties. If you play really well and the teacher simply says, "Good job. . . next week bring the second movement," it really wasn't a good lesson. That usually doesn't happen, but don't worry about that - teachers are there to be useful; so, showing from your side what you need gets the best out of them. The most satisfying moments of teaching in my experience are the result of a true partnership and the goal of the encounter is to empower you to find more answers on your own.
Warming up before a concert is quite different. If by that point you don't know what you are playing, practicing the "difficult spots" will usually make you very nervous. There is nothing wrong with reviewing your intentions, but last minute bowing or fingering changes will often confuse you in the concert.
But there are two things I find helpful – the first is maybe philosophical and psychological: Why have people come to hear you? If you understand that they're not out to "get you" but rather are there because you have something to give that they want and can't do themselves, that motivates you to have that wonderful emotion we call generosity! That's a positive and helps you feel confident about what you are about to do.
The other thing is something as a string player I find quite useful: I play anything other that what I am about to perform, usually a part of a piece that is not too fast, and look for my own "sound." This gives me a real physical connection to my instrument and starts me listening well to what I am playing. And, of course, if when you play you don't really listen to yourself, why should anyone want to listen to YOU? The last thing to do is walk on stage with that feeling of generosity. You are in a completely different "space" than in the practice room.
Try this. I hope it will help you!
-Laurence"
As student of Gaspar Cassado and Gregor Piatigorsky, Professor Laurence Lesser is a former top prize winner at the Tchaikovsky International Cello Competition - and has served on the cello teaching faculty at Boston's New England Conservatory since 1974
Do you have a burning question for one of the Pros? Simply email: [email protected]