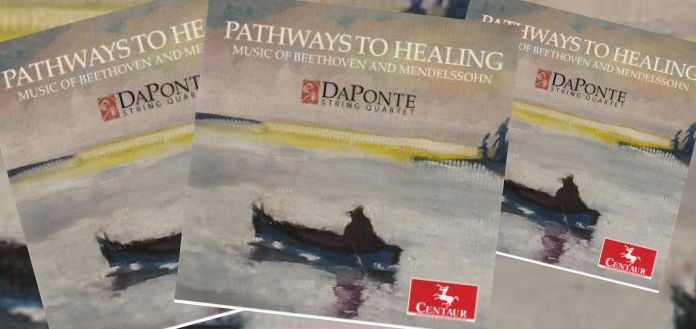 Centaur Records has today announced the release of the Philadelphia-based DaPonte String Quartet's new album: Pathways to Healing: Music of Beethoven & Mendelssohn.
The disc features Beethoven String Quartet No. 15 in A minor Op. 132 and Mendelssohn String Quartet No. 2 in A minor Op. 13.
"One of our passions as a quartet is to think about the work in the context of history and in terms of where each composer was ... mentally, spiritually and physically ... at it's creation ..." violinist Dino Liva has told The Violin Channel.
"The third movement of the Beethoven quite literally represents a return to health after an illness from which recovery was uncertain ... one can almost hear the windows being thrown open after the worst has passed ... the birds singing outside ...  the sunlight..." he has said.

"The Mendelssohn seems a fascinating work in comparison ... written so soon after the Beethoven, a student looking upon the master in total admiration ... imitating, yet developing his own style ..."
"Writing these pieces were, in a way, therapeutic for each of their authors ...  certainly, they are pieces which transformed them ... I suppose we hope that after a listen, the listeners will feel the balm!"
Track previews available now on Amazon and iTunes: