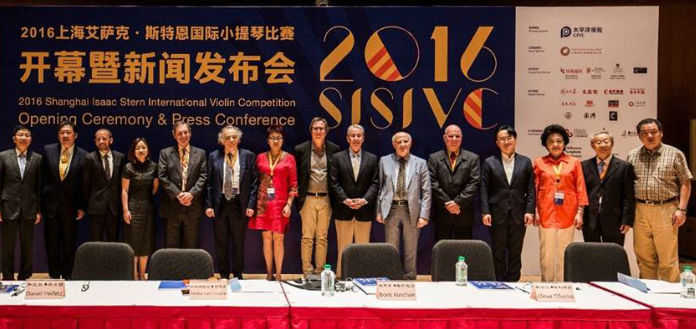 The organisers of the inaugural Shanghai Isaac Stern International Violin Competition have today released the jurors' individual scores and rankings for the Final Round - sparking concern over teachers voting for their own students.
It has been revealed that in the Final Round, Juror Zakhar Bron placed his 2 former students Mayu Kishima and Stefan Tarara in 1st and 2nd rankings - with scores of 99 and 98 out of a possible 100.
Juror Boris Kuschnir placed his current student at the Vienna Conservatory, Sergei Dogadin in 1st rank with a score of 99 - with his 2nd and 3rd ranked candidates scoring a sizable 9 and 11 points lower.
Kuschnir's allocation of 99/100 was more than 11.5 points higher than the mean score he awarded across the other 5 candidates in the Final round.
1st prize winner, Mayu Kishima received 4/13 1st place votes, in total and an aggregated average score for the Final round of 94.23 - to 2nd and 3rd placed Sergei Dogadin and Sirena Huang's 93.92 and 93.69.
Minor prize winners Stefan Tarara, VC Young Artist Richard Lin and Ming Lui received aggregated average scores of 91.15, 90.31 and 88.54
Mayu received an unprecedented US$100,000 prize money - Sergei and Sirena $50,000 and $25,000 respectively.
Full scores and rankings for all rounds for all 6 Finalists, are available at: http://bit.ly/2c9PTYP

"With all good intentions The Shanghai Competition scoring system was flawed ..." outspoken activist, Mr Aaron Rosand from the Curtis Institute of Music has told The Violin Channel.
"Most competitions are tainted owing to the fact that the teachers sitting on the jury have their own students competing …. they tend to give more lower marks for more worthy candidates and many injustices are the result …" the 88 year old has said.
Juror Maxim Vengerov, who had no teaching affiliations with any candidate in the Final round, placed VC Young Artist Richard Lin in 1st prize - with a score of 95.
Jurors Martin Engstroem, David Cerone and Elmar Oliveira viewed 22 year old Sirena Huang, from the United States as the competition's strongest candidate.
Jury Co-Chairman David Stern and juror Daniel Heifetz awarded the 2016 gold medallist, Mayu Kishima a perfect score of 100/100 in the Final Round.
Daniel Heifetz however scored the Japanese 29 year old: 72, 78, 75 and 75 in the previous 2 rounds - voting 'NO' to her passing both the Quarter-Final or Semi-Final stages.
"I propose that when accepting a position as juror, it should be mandated that you cannot have a student in the competition …" Mr Rosand has told The Violin Channel.
"On several occasions, when I sat on juries for international competitions, a juror would make a remark after a fine performance such as "that is not the way to play Bach" or "that is not Mozart…" he has revealed.
"This unfair practice of teachers and their students in the same competition must come to an end if we are to arrive at honest decisions ..." Mr Rosand has pleaded.
At the 2014 Indianapolis International Violin Competition, jury member Ms Miriam Fried elected to abstain from voting in the Final round - after 3 of her students progressed.
The 2016 Shanghai jury comprised: David Stern (Co-Chairperson), Vera Tsu Weiling (Co-Chairperson), Boris Kuschnir, David Cerone, Daniel Heifetz, Zakhar Bron, Maxim Vengerov, Martin Engstroem, Emmanuel Hondré, Elmar Oliveira, Jian Wang, Zhenshan Wang and Lina Yu.