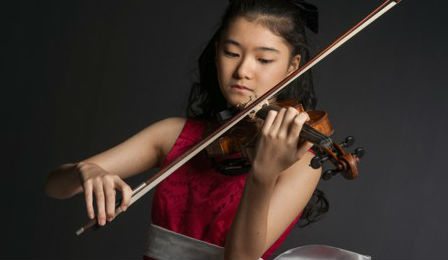 15 year old Mone Hattori, from Japan has just minutes ago been awarded the Grand Prix prize at the 2015 Boris Goldstein International Violin Competition, in Bern, Switzerland.
Joint 1st prize was awarded to 28 year old Stefan Tarara from Germany and 26 year old Aleksey Semenenko from the Ukraine.
3rd and 4th prizes were awarded to 24 year old Shiori Terauchi from Japan and 24 year old Arsenis Selalmazidis from Greece/Russia.
5th and 6th prizes were awarded to 24 year old Furong Li from China and 24 year old Benjamin Baker from New Zealand/United Kingdom.
All 6 top prize winners are current students of the competition's Founder and Jury President, Zakhar Bron.
Mone will receive CHF 15,000 (USD $16,000).
Videos of all round performances available at: http://www.boris-goldstein-competition.com/english/index.htm
PICTURED: 2015 GOLDSTEIN INTERNATIONAL VIOLIN COMPETITION 1ST PRIZE WINNER, 15 YEAR OLD, MONE HATTORI FROM JAPAN