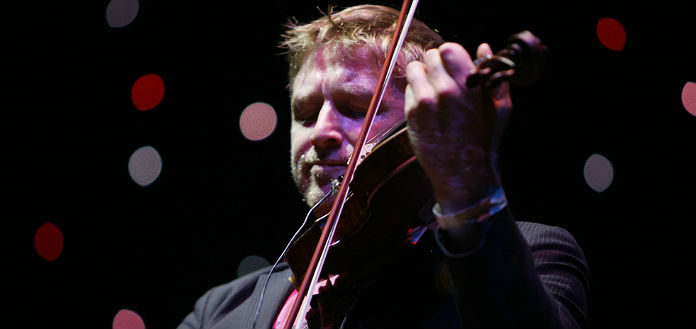 The Violin Channel member Francesco Bruno from Italy was keen to know: "Is it possible to teach someone how to improvise? If so, what are the basic steps?"
We threw Francesco's question over to award-winning British jazz violinist and composer, Professor Christian Garrick.
"Hi Francesco,
Yes. Providing the student is able and willing to put their trust in the teacher. 'Improvising' in its most idealistic sense is to mean 'making it up in the moment'. In actual practice i.e. a professional performance scenario, on stage or in the recording studio, improvisation is but one of many component elements brought to the feast. To some degree we are inexorably bound to rely on our memories of learnt practices surrounding rhythm, harmony and melody and to employ central musical devices such as patterns, repetition, inversion, pitch and dynamics.
A straightforward approach is often to begin somewhere the student is already comfortable. For example, on violin, the G major scale. We begin by creating new shapes with the scale, first by removing the 4th and 7th to create a major pentatonic scale, then by showing that repetitive patterns work to create an illusion of something more complex. Quickly the student's imaginations are fired up to experiment. We emphasise the value of rhythmic ideas in order to create tension and release and we work on the rhythmic side of phrasing using bebop and Indian classical systems.
Transcription is very immediate and thorough route to getting to grips with the work of our favourite musicians and favourite musical performances. I have transcribed the work of leading pianists, guitarists and drummers as well as that of violinists. It may seem an obvious thing to point out but there is no reason to limit your studies to violin people. To the contrary. There's every reason to investigate - through detailed transcription - the music at the source of your interest whatever the instrument happened to be. Always then transfer your finished transcription onto your violin. It is in this final part of the process, as you tackle it with your fingers on the fingerboard for the first time, the secrets behind the magic of that favourite solo at last hove into view. All of this gets absorbed into your broadening experience and contributes to your development as a fledgling improvising violinist.
Ultimately the key to successful improvisation, as in all effective music making, is relaxation and concentration. We strive towards a state of effortless flow where a self-perpetuating energy abounds - the centre of everything - for it is here we are able truly to be ourselves, explore our deeper-most ideas, and imbue our improvisations with them.

-Christian"
British jazz violinist and composer Christian Garrick has performed and collaborated internationally with distinguished artists, including: Wynton Marsalis, Nigel Kennedy, Bireli Lagrene, Dolly Parton, All About Eve, Duffy, Van Morrison, Dame Cleo Laine and Sir John Dankworth | He currently serves a professorship of jazz and non-classical violin studies on faculty at London's Royal Academy of Music, Royal College of Music and Guildhall School of Music and Drama
Do you have a burning question for one of the Pros? Simply email: [email protected]