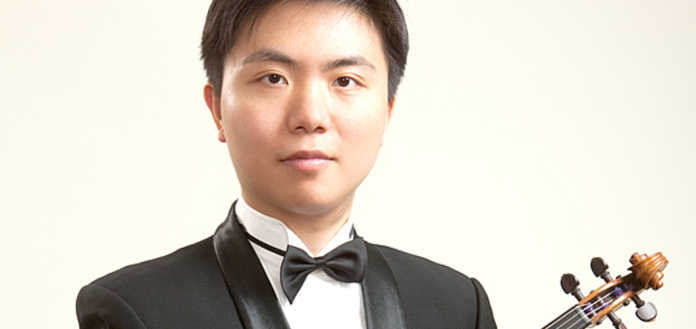 With the 2015 Jean Sibelius International Violin Competition entering its final stages in Helsinki, VC recently caught up with a number of former prize winners, to get a better understanding of their time in Finland – and the opportunities the quinquennial event has presented.
2005 2nd Prize Winner, VC 'Artist' Jiafeng Chen from China guest blogs about his experience.
"It was exactly 10 years ago when I participated the 9th Jean Sibelius International Violin Competition. Things were quite different then, I was 18 years old, just a year after I left Shanghai, and was a student at the Chetham's School of Music in Manchester. I was curious and excited about everything in UK.

Can you imagine the world without iPhone, 3G networks and fast Internet speed? I used to purchase IC telephone cards and use one of the massive payphones at school to contact my parents. One day, my mother mentioned the Sibelius Competition. I was told to pass this information onto my professor Jan Repko. Jan was very happy to see that I have a goal. So he said: "Of course you can apply, but… no tears if you get knocked out in the 1st round." I thought about it for a second, and I smiled and said "OK! I won't have tears".

We had about a few months to prepare the whole list of repertoire. Most of the pieces were brand new to me apart from the Tchaikovsky Concerto and the 1st movement of the Sibelius Concerto. Well, that doesn't help, does it? I had to learn most of the pieces from scratch. Jan and my pianist Brenda worked with me almost everyday at school and I would go to stay with Jan and his wife Margaret during school holidays. Jan would spend hours and hours to teach me in the house.

It was November 2005 when I arrived Helsinki for the first time. Brenda and I were arranged to stay with the kindest hostess Asta Heickell. She was about 70 years old at that time. During daytime, Brenda would go to practice at Sibelius Academy. Therefore I spent a lot of time alone with Asta in those three weeks. She was so supportive. I have to mention the unforgettable BREAKFAST!! Every morning when I walked into the dinning room I would discover many cups of yogurt, a large bowl of fruit, a selection of bread including Finnish bread, nutella and eggs. Then Asta would cook hot food for me when she saw me. It was really like a banquet. So I had no excuse not to practise hard. Apart from mothering me, LOL… Asta was also a journalist. She wrote a few articles about me but she never interrupted me when I was practising.

There wasn't much daylight during November and December in Helsinki. It gets dark at about 3pm and the first sunlight comes into my window at about 8:30am. Apart from practice 3 hours a day, I spent a lot of time sleeping… I was never a morning person. I thought it'd be the end of my competition journey when I found out that I had to perform my 2nd round at 10am. But thanks to all that sleep! I felt so energetic that morning.

It was definitely one of the friendliest competitions that I've ever participated. The staff was so supportive. I remember that friends and fans could post comments on the performers' pages of the competition website. My parents were watching my performances online in China so I didn't feel alone and stressed at all.

Performing in the Finlandia Hall with the world-class conductors and orchestras was not something that every 18 year-old kid would have experienced. The reward was not only the 2nd prize, but also the very first step of my music career. I'm very thankful! Good luck to this year's participants. I'm sending my musical vibes to all of you!

Jiafeng Chen"