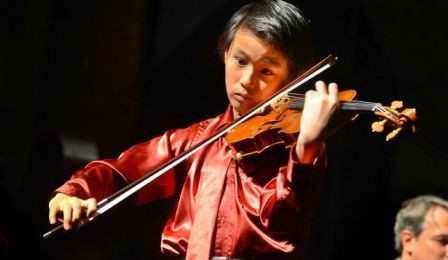 It has been announced that the Menuhin Competition, the world's leading competition for violinists under the age of 22, will return to London in 2016 - in celebration of Yehudi Menuhin's centenary.
Founded by Maestro Menuhin in 1983, and hosted in a different international city every two years, previous prize winners include VC 'Young Artists' Ray Chen, Chad Hoopes, Hrachya Avanesyan, Jiafeng Chen, Soyoung Yoon, Xiang Yu, Suyeon Kang, Soo-Been Lee and Kevin Zhu.
"It is wonderful that the prestigious Menuhin Competition is coming back to London in 2016, the centenary year of the great maestro. This exciting showcase of some of the best young violinists from across the globe will be a feast for music fans, which I hope will inspire other gifted young people in the capital and across the country," London's Mayor Boris Johnson has said.
The 2016 jury members will include previous prize winners, and now world class soloists: Tasmin Little, Julia Fischer and Ray Chen.
The 2014 competition will be hosted from the 21st February to the 2nd March at the Butler School of Music, in Austin, USA - with this year's competitors to include VC 'Young Artists' Timothy Chooi, William Hagen, Zeyu Victor Li and Stephen Waarts.
The Violin Channel will be providing live and extensive coverage.
Image Credit: Kevin Zhu, 2012 Menuhin Competition