Louisville Orchestra Adapts COVID Safe Musician Setup
The ensemble has found ways to perform together safely in person, so as to record concerts for virtual viewing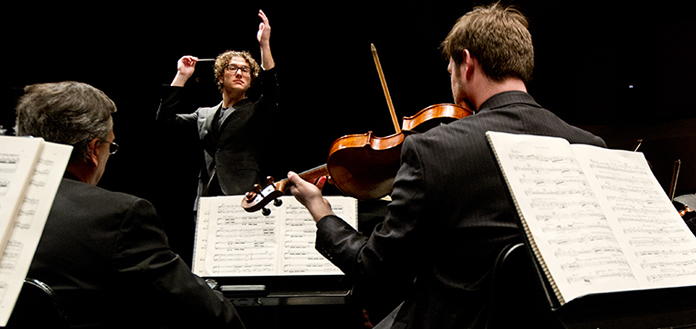 The innovations are being led by Teddy Abrams, the musical director and conductor, along with Andrew Kipe, former executive director of the Louisville Orchestra and current director of concerts at John Hopkins University's Peabody Institute.
The first step is moving the performance space from Kentucky Center's Whitney Hall to Paristown Hall, with built-in cameras, microphones for the entire orchestra, and a high-quality ventilation system.
Studies have also been conducted at the Peabody Institute to understand the path of aerosols, the smaller droplets of the virus, as they move through a space.
Results of the studies led to the orchestra flipping the entire stage. The strings are now seated behind the brass and wind section, so as to avoid the air being blown from the brass and wind sections.
Other safety precautions include covering the bell of the trumpets and trombones with a mask.
Every member is tested for COVID-19 twice a week and the performance space is sanitized after each use.
Members who don't have to blow into their instruments wear masks throughout the concert.
Lastly, at least half of the performers are protected by plexiglass shields.