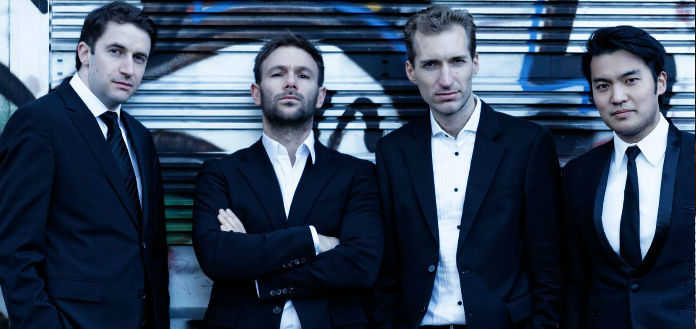 An exciting new chamber music string collective has been unveiled today, called 'Made in Berlin' - featuring violinists, VC 'Artists' Ray Chen and Noah Bendix-Balgley.
The new ensemble, also comprising Berlin Philharmonic's Principal violist, Amihai Grosz and cellist, Stephan Koncz, will come together for quartet, trio and duo collaborations - as well as larger chamber music projects with other instrumentalists.
"I have always loved performing chamber music - and it's so important for all musicians regardless of your primary pursuit ... " Ray has told The Violin Channel.
"I first met Noah in 2009, when we were both Finalists at the Queen Elisabeth Competition, and we've long talked about fun ways to perform together … Enter Amihai and Stephan and our dream team was complete," he has said.
"I'm looking forward to playing chamber music with my friends Ray, Amihai, and Stephan - all wonderful musicians, whom I respect enormously ... and all from very different musical backgrounds," Noah has said.
Both violinists will equally share the 1st violin responsibilities, the group has indicated.
Made in Berlin's first public performances will be in Eindhoven, Netherlands on October 15th and Orange County, California on November 18th.
VC 'Artist' Noah Bendix-Balgley currently serves as one of three 1st Concertmasters with the Berlin Philharmonic - and served as Concertmaster of the Pittsburgh Symphony Orchestra from 2011 to 2014.
Amihai Grosz was a founding member of the famed Jerusalem Quartet - and has served as Principal Violist of the Berlin Philharmonic since 2010.
Stephan Koncz has served as a member of the Berlin Philharmonic cello section since 2010 - and performs and arranges regularly with the orchestra's '12 Cellists of the Berlin Philharmonic' ensemble.