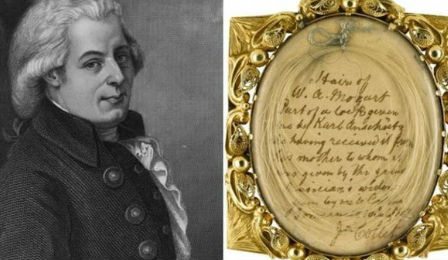 A tuft of hair, contained in a gold locket with a note explaining that it came from the head of Wolfgang Amadeus Mozart and an invitation to Beethoven's funeral are among lots set to be auctioned this week at Sotheby's London.
The hair strands, believed to have been handed down through the families of several musicians, are expected to be sold for at least £12,000 (US $18,000).
The invitation to Beethoven's funeral – expected to reach in excess of £3,000.
In 2002 Sotheby's sold another lock of Mozart's hair for £38,000 - more than double the pre-sale estimate.
Both items of memorabilia are on display at Sotheby's London until Thursday 28th May.