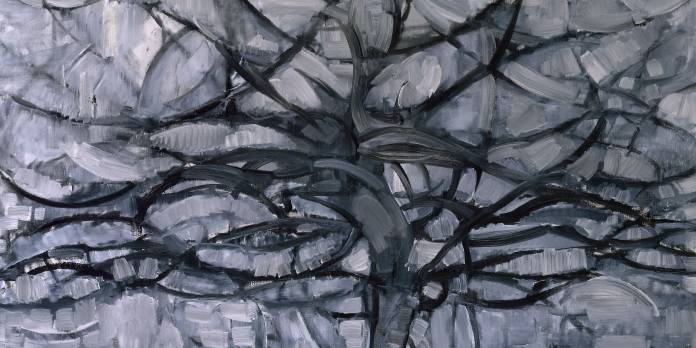 Aidan Vass, 17, is currently a Young Composer Fellow with the Los Angeles Philharmonic.
"The painting reminded me of the loneliness experienced by so many in this pandemic," Aidan said. "Mondrian's portrayal of the tree seemed so desolate to me. I began to realize that, despite initially appearing so gloomy, the tree was always growing."
"Earlier this Summer I was fortunate to meet cellist, Andres Ayerbe. We were introduced through our mentors, Brett Banducci and Daniel Saenz, who in their high school years had met coincidentally at an airport. They wanted Andres and me to have that same experience of spontaneous collaboration, so a zoom meeting was set up. Despite the fact that we have never met in person (I am from Los Angeles and Andres from Houston), we managed to spend the next several months working hard to create a multi-media cello presentation."
"The project required many steps and lots of rigid coordination. From the start, I was tasked with writing the piece, setting up the animation, and commissioning a painter to paint the images used for the animation. After working with Andres several times over zoom, we had a finished piece, and it was his turn to record it. Once Andres sent me the final recording, I took the newly painted frames (done by Nick Celozzi), the final recording, and the Gray Tree painting, and animated them all together. After a very tedious 2 weeks, the animation was complete. Gray Tree had come to life."
"In the end, Gray Tree is a reminder of the importance of focusing on growth during times of uncertainty."