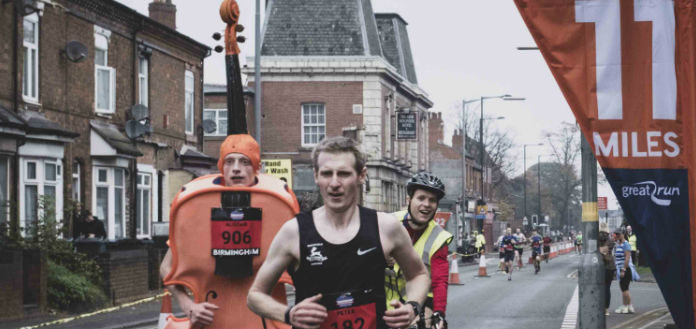 A viola student in the United Kingdom has this week entered the Guinness Book of World Records for running the fastest full marathon in history – whilst dressed as a musical instrument.
Alistair Rutheford, a student at the Birmingham Conservatoire, completed the 26.2 miles feat at the Birmingham International Marathon in 3 hours, 20 minutes and 33 seconds within a custom-made Plastazote foam viola suit – more than 54 minutes faster than a runner at the 2016 Yuengling Shamrock Marathon dressed as a cowbell.
Alistair in April of this year entered the same record books for the fastest half marathon in history dressed as a musical instrument.
Alistair has indicated all funds raised by the world record attempts will be donated to ARCO – a charity program in which Birmingham Conservatoire students and alumni give weekly instrumental Skype lessons to South African string students.
"I cannot thank everyone enough at the Royal Birmingham Conservatoire and ARCO, along with my family and friends, for their unwavering support throughout this challenge," Alistair has said.
"I am planning on resting The Running Viola for the moment, unless someone breaks my records!" he has said.