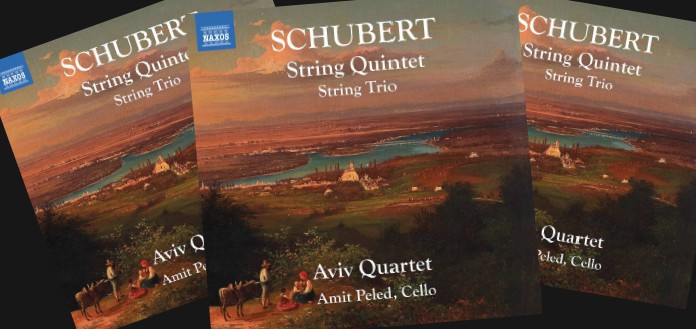 Naxos Records has announced the release of the Aviv Quartet and cellist Amit Peled's new album: "Schubert: String Quintet & String Trio."
"Standing firmly as the pinnacle of Mount Everest in chamber music, it has been my dream to record the Schubert Quintet for the longest time," Amit Peled told The Violin Channel.
"When Naxos asked me to record it, I immediately thought of the Aviv Quartet, who studied in Germany with the Alban Berg Quartet. I studied intensely with Bernard Greenhouse so a mixture of both worlds and both legendary recordings was our true inspiration.
"I've known the Aviv Quartet for many years, in fact, violinist Sergey Ostrovsky and I played together in the Israeli army string quartet for three years and we both teach every summer at Keshet Eilon, in Israel. For this recording, we worked with Norbert Kraft, who is an amazing genius, and we isolated ourselves for four days in Châeau-D'Oex, Switzerland.
"During the recording sessions, we quickly found our own collective voice through the piece, the traditions that we were brought up upon, and have humbly tried to give it our own personal statement. Reaching the top of this monumental Musical Everest has truly been a dream for all of us and we hope that the listeners will enjoy our take and will join us on the summit."