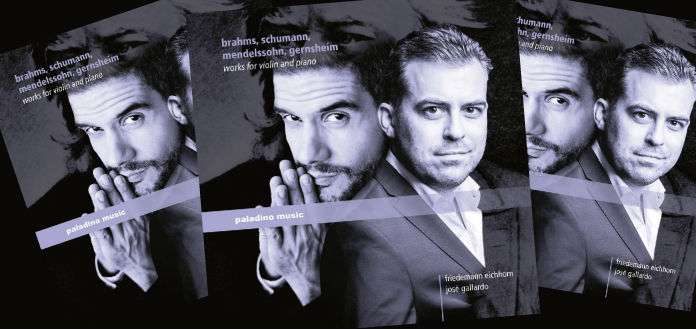 Paladino Music has this month announced the release of German violinist Friedemann Eichhorn new album: 'Brahms, Schumann, Mendelssohn & Gernsheim: Works For Violin & Piano'.
Recorded with acclaimed Argentinian pianist José Gallardo, the disc features Arnold Mendelssohn's (1855-1833) Violin Sonata in C Major, Schumann's 3 Romances, Friedrich Gernsheim's (1839-1916) 'Introduction & Allegro Appassionato' - and Brahms' Violin Sonata No. 3 in D minor .
"While Brahms' 3rd Sonata and the Schumann 'Romances' are true highlights of the duo repertoire, in recent year's I've been so inspired by Brahms' contemporaries Friedrich Gernsheim and Arnold Mendelssohn ..." Friedemann has told The Violin Channel
"These two beautiful violin and piano works by Mendelssohn and Gernsheim are virtually unknown ... so my goal with this CD has been to bring them out of Brahms' long shadow ..."  he has said.
"I hope that listeners will have as much pleasure as I've had discovering these forgotten but truly excellent duo works - it's been like a treasure hunt."