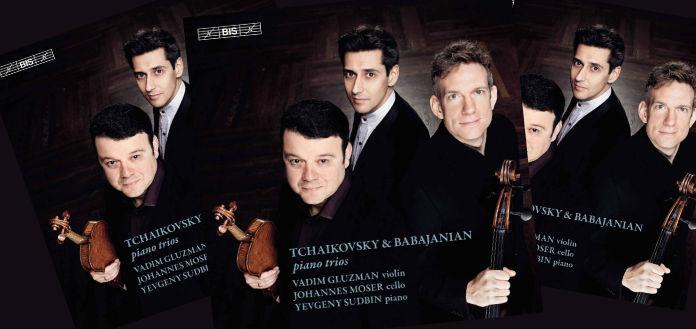 BIS Records has announced the release of violinist Vadim Gluzman's new album: 'Tchaikovsky & Babajanian Piano Trios'.
Recorded with pianist Yevgeny Sudbin and cellist Johannes Moser, the disc features Tchaikovsky's Piano Trio in A Minor Op. 50, Armenian composer Arno Babajanian (1921-1983)'s Trio for Violin, Cello & Piano in F-Sharp Minor - and Alfred Schnittke's 'Tango' (Arr. From Life with an Idiot).
''This recording was a culmination of a very special concert tour in Europe that I shared with my friends Johannes Moser and Yevgeny Sudbin in December of 2017 ... with so many memories and so many emotions of making music together, now holding this CD truly is a very special feeling ..." Vadim has told The Violin Channel
"All three of us wanted to play and record the Tchaikovsky Piano Trio and we coupled it with somewhat of a discovery - a trio by an Armenian composer, Arno Babajanian ... deeply rooted in Armenian folklore, it is infused with absolutely heartbreaking melodies  and most excitingly complicated rhythmical patterns ..." he has said.
"While on tour we finished every concert with an encore brilliant transcribed by Yevgeny Sudbin of Alfred Schnittke's 'Tango' from his opera "Life with an Idiot" ... it's witty, sarcastic, funny and typical Schnittkean macabre - so of course we could not resist including it on the recording as well.''