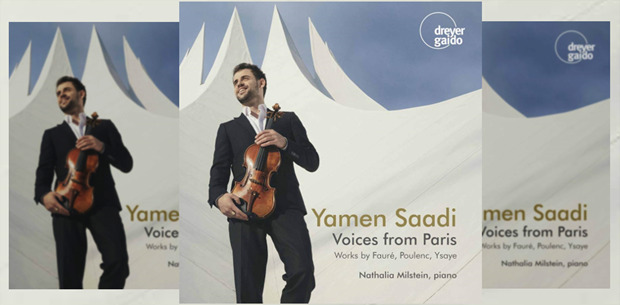 Yamen Saadi's debut album "Voices From Paris: Works For Violin & Piano" with Nathalia Milstein, features Francis Poulenc's Violin Sonata and La reine de cœur from his La courte paille "Sept mélodies" arranged for violin and piano. 
Also on the disc is Eugène Ysaÿe's Rêve d'enfant and Poème élégiaque; plus Gabriel Fauré's Sonata for Violin and Piano No. 1 and Les berceaux from his 3 Mélodies, op. 23.
"The story of the pieces in the album is about death, love and life," Saadi told The Violin Channel. "Ysaye's Poème élégiaque is inspired by Romeo and Juliette, Fauré wrote the sonata for the brother of his love and Poulenc quotes poems dealing with death."
While selecting pieces for the album, Saadi first thought of Poème élégiaque, which was dedicated to Fauré. From there, Fauré's Violin Sonata was included and for Saadi, Poulenc's works were added as "a beautiful match to Faure and Ysaye since he writes in a different character with many mood swings and in ways, makes the program varied and balanced." Additionally, all these composers lived in Paris.
Saadi and Milstein perform together in a piano quintet, the Chianti Ensemble, and have performed as a duo many times before. "It is always inspiring to work together, Nathalia has a beautiful sound with sensitive phrasing," Saadi told us. "We work very closely with the score and always find meaning behind the notes and it was amazing to work with her on this repertoire."
In creating the album, Saadi played its pieces for different audiences and each time discovered contrasting ideas which helped fuel his and Milstein's ideas for interpretation. 
"The journey of finding our own voice together with Nathalia in the pieces was very creative and inspiring," Saadi said. "During the recording session, we took that even further and experimented endlessly with phrasing and sound until we found the meaning we are looking for.
"I would love the audience to find a personal connection to each piece, to let the music take their imagination to their own meaning of each piece and create a personal story with the music."
The album is now available on various streaming platforms, to purchase the CD, click here.
Born in 1997 in Nazareth, Israel, Saadi studied violin at the Barenboim-Said Conservatory and was later mentored by Israeli Philharmonic Orchestra concertmaster, Chaim Taub. When he was 11, Saadi joined the West-Eastern Divan Orchestra, conducted by Daniel Barenboim, and six years later, became its concertmaster.
Milstein started the piano at age four and completed her music studies at Geneva Haute Ecole de Musique with Nelson Goerner and at Barenboim-Said Akademie with Sir Andras Schiff. Her career took off after she won first prize at the Dublin International Piano Competition and has since been touring extensively around Europe.