Protean Quartet Wins 2022 York Early Music International Young Artists Competition
The biennial competition is part of the York Early Music Festival, held at England's National Centre for Early Music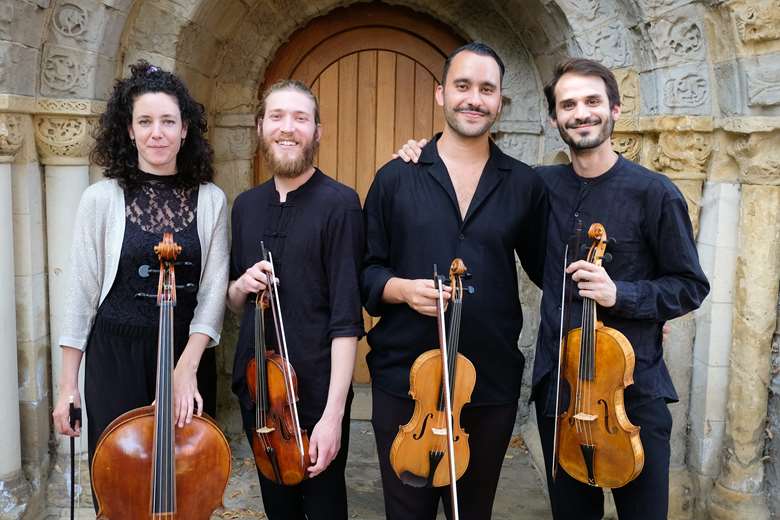 (Photo credit: Jim Poyner)
The Protean Quartet, an early-music ensemble hailing from Germany, is comprised of Javier Aguilar and Edi Kotler (violins), Ricardo Gil (viola), and Clara Rada (cello).
The group triumphed over six other finalists, including the renowned recorder quartet Palisander.
York Early Music International Young Artists Competition carries a cash prize of £1,000, a professional recording contract with Linn Records, and opportunities to work with both BBC Radio Three and the National Centre for Early Music, which is based in York.
The jury was comprised of Edward Blakeman (BBC Radio 3), Albert Edelman (President, Réseau Européen de Musique Ancienne 2019-2022), producer and recording engineer Philip Hobbs (Linn Records), violinist Catherine Mackintosh, and harpsichordist Professor Barbara Willi.
"The last three years have been extraordinary and extremely challenging for all young musicians," said Philip Hobbs, the chair of the jury.
"The caliber of musicianship we have seen today is a tribute to their tenacity and dedication. The standard we see keeps going up and up and I would like to applaud all those who have taken part in this incredible day."
"We are so proud to receive this wonderful prize which will widen the opportunity for us to share our music far and wide," the quartet said. "We were competing against some amazingly talented musicians and we are privileged to receive this great honor."
You can re-watch the finals on the competition's website.
Since its formation, Protean Quartet has performed in festivals such as Oude Muziek Festival and the Festival de Saintes 2021. They also won the Biagio-Marini International Competition 2020. Apart from the quartet, its members play regularly with baroque groups such as Akademie für Alte Musik Berlin, Balthasar Neumann Ensemble, Collegium Vocale Gent, Il Convito, Diletto Musicale and Geneva Camerata, among others.