Edinburgh to Build First Concert Hall 
The city's first concert hall facility to be built in over 100 years will be situated at the center of Edinburgh in St Andrew Square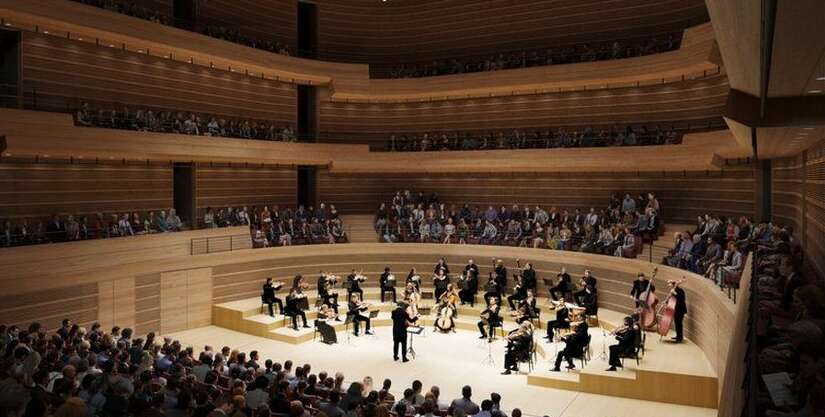 Design for Dunard Centre (Image courtesy: David Chipperfield Architects/Hayes Davidson)
Approved by the City of Edinburgh Council's Planning Committee, the new Dunard Center will undergo construction next year and be open by 2026.
The 1000-capacity auditorium will be accessible for live streaming, digital capture, and broadcasting, plus multi-purpose rooms for education, conferencing, and hospitality. It will also include a café and foyer with ample performance space.
As the largest new cultural venture to be developed in the capital since the Usher Hall in 1914, the Dunard Center will house the Scottish Chamber Orchestra (SCO) and be part of the annual Edinburgh International Festival.
According to the Edinburgh Reporter, the £75 million venue was part of the Edinburgh and South East City Region Deal, which announced new designs for a "cultural flagship."
The deal stated that the Dunard Center would "fill a recognized gap in the region's cultural infrastructure and provide a platform for local, national and international musicians to perform to audiences in the very best environment."
The International Music and Performing Arts Charitable Trust (IMPACT) Scotland is the charity managing the Dunard Center and is funded by the Dunard Fund and Royal Bank of Scotland. The UK and Scottish governments are each contributing £10 million and the City of Edinburgh Council will be providing £5 million to the project, according to the BBC. 
The building design will be led by award-winning organizations David Chipperfield Architects and Nagata Acoustics. The latter's previous projects include Los Angeles' Walt Disney Concert Hall, the Philharmonie de Paris, and Elbphilharmonie Hamburg — venues known for their immersive acoustics.
"[The] approval is tremendous news for the city and turns the ambition for a world-class centre for music and performance, into a reality," said Gavin Reid, SCO's CEO and co-chair of IMPACT Scotland.
"[The Dunard Center will become] a stunning auditorium offering the very best in modern acoustics and boasting state of the art digital broadcast facilities will allow us to dream big, expand our repertoire, collaborate with ever more composers and artists, present our work innovatively, courageously and flexibly all with a new-found sense of adventure and ambition, always seeking to reach more and more people," Reid concluded.
For more information, click here.