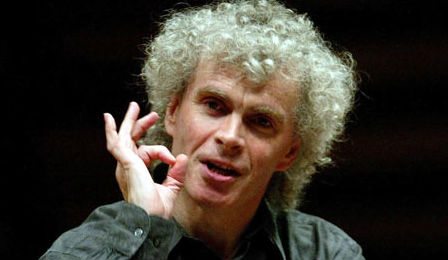 It has been announced today that conductor Sir Simon Rattle is set to join the London Symphony Orchestra, as ther new Music Director from September 2017.
"It is a very obvious step - and the idea of coming home and having a position in this fantastic city is also a thrill for me," Sir Rattle has told Britain's BBC.
"I cannot imagine a better or more inspiring way to spend my next years, and feel immensely fortunate to have the LSO as my musical family and co-conspirators," he has said.
"This is the realisation of a dream, to bring Simon Rattle back to his home country to lead the extraordinary musicians of the LSO," London Symphony Managing Director, Kathryn McDowell has said.
We are delighted to announce the appointment of Sir Simon Rattle as Music Director of the LSO, taking up his post in Sep 2017 #lsorattle

— London Symphony Orch (@londonsymphony) March 3, 2015
He will replace Principal Conductor, Valery Gergiev who is set to stand down at the end of 2015.
Rattle will be going under the title of Music Director rather than Chief Conductor - the first conductor to have that title since Claudio Abbado.
Rattle, 60 made his first appearance with the London Symphony in 1977, aged 22, and currently serves as Chief Conductor and Artistic Director of the Berlin Philharmonic Orchestra – a position he has held since 2002.
This was the moment this morning when pen went to paper and Sir Simon Rattle became Music Director to be. #lsorattle pic.twitter.com/3aY95sz4i2

— London Symphony Orch (@londonsymphony) March 3, 2015
The whole orchestra welcoming Sir Simon during the break in this morning's rehearsal. #lsorattle pic.twitter.com/uQPCAcBHPR

— London Symphony Orch (@londonsymphony) March 3, 2015
Yep I'm chuffed at the appointment of Sir Simon Rattle @londonsymphony ! pic.twitter.com/qRU0d6kpPX

— Maxine Kwok (@maxinekwokvln) March 3, 2015