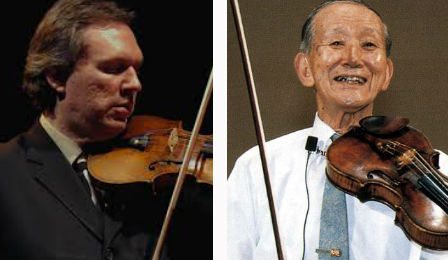 The International Suzuki Organisation has today released a statement in response to American violin fiddler Mark O'Connor's allegations that Shinichi Suzuki, the founder of the Suzuki Method of music education, had lied about his credentials.
"To call Shinichi Suzuki 'the biggest fraud in music history' is groundless and wrong. The allegations have no factual base and can only be interpreted as an attempt by Mr. O'Connor to manipulate the media," the statement has said.
O'Connor, 53, the founder of the 'The O'Connor Method – A New American School of String Playing,' made claims in a blog post on October 16th alleging Suzuki had infactually made up components of his back story to establish credibility – including his association with physicist Albert Einstein and tutelage by famed German pedagogue Karl Klingler.
"Shinichi Suzuki was deceitful about his music credentials and training to American violin teachers, academics, and unsuspecting families who wished to have good violin lessons for their children," O'Connor had said, "….he had no professional credential to tout … but the lie about Klingler got him a seat at the table with serious violin pedagogues and therefore a chance to market his books and approach with trumped up credibility."
"Shinichi Suzuki had violin lessons with the prominent German violinist Karl Klingler in Berlin in the 1920's. Klingler's daughter, Marianne Klingler, was a strong supporter of Suzuki's teaching principles and became the first chairperson of the European Suzuki Association. Ms. Klingler confirmed many times that Suzuki had indeed studied with her father," the Suzuki Association statement has refuted.
"One can only speculate as to why Mr. O'Connor, who publishes and sells his own approach to violin playing, is so eager to discredit Shinichi Suzuki and why he has chosen to manipulate media at this time," the statement reads.
"In the end, however, it is not what Shinichi Suzuki did or did not do in the 1920s that is of importance. The important issue is the successful use of his teaching principles which have enriched the lives of students and has positively influenced music education worldwide for the past 70 years," the statement concludes.
According to the American Suzuki Association there are currently more than a quarter of a million Suzuki students being taught by 8,000 teachers worldwide.
Many of today's top soloists and orchestral musicians began their musical education with Suzuki's teachings – including virtuosi Sarah Chang, Hilary Hahn, Ray Chen, Leila Josefowicz, Stefan Jackiw, Nicola Benedetti, Julia Fischer and Arabella Steinbacher.
PREVIOUS