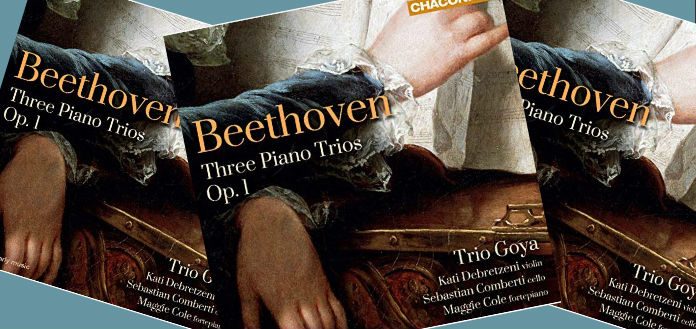 Chandos Records has today announced the release of the London-based piano trio, Trio Goya's new album: Beethoven Piano Trios Nos. 1-3.
The disc features Ludvig Van Beethoven's Piano Trios No. 1 in E-Flat Major, No. 2 in G Major and No. 3 in C Minor – with pianist Maggie Cole, violinist Kati Debretzeni and cellist Sebastian Comberti.
"We released a Haydn CD a few years back, and Beethoven's Opus 1 was a natural progression …. having studied with Haydn, Beethoven was proud enough of these trios to present them to the world as his first published work, and the hallmarks of his teacher are omnipresent …" violinist Kati Debretzeni has told The Violin Channel.
"Two of the three trios were the first ever pieces we played as Trio Goya in its present formation, so they are very close to our hearts and we have performed them a lot over the years  …. it felt like it was the right time to commit them to a CD …" she has said.
"We hope our joy of making music together, of a musical 'trialogue' without words comes across."