VC INTERVIEW | Ed Mingo on Pirastro's Evah Pirazzi Gold Violin String Set 10th Anniversary
The Pirastro Evah Pirazzi Gold violin string set is celebrating its 10th anniversary, since launching in 2012 at the Frankfurt Messe
The Violin Channel recently caught up with Pirastro USA's Marketing Manager, Ed Mingo. This week, we are giving away an Evah Pirazzi Gold Violin String Set. Enter here to win!
Tell us about the Pirastro Evah Pirazzi Gold violin string set? What needs do the Gold set meet for string players?
The Evah Pirazzi Gold was designed to bridge the gap between the warm, gut-like tone of the Obligato and the powerful soloistic tone of the original Evah Pirazzi. Players were asking us for something that blended the warmth and nuance of Obligato with the power and projection of Evah Pirazzi.
What are the Evah Pirazzi Gold violin strings' main characteristics? Which players and instruments are they most suitable for?
The Evah Pirazzi Gold are a beautiful blend of power and elegance. They have most of the power of Evah Pirazzi combined with a tremendous amount of colors and overtones. They are used by many different types of players such as Leila Josefowicz, Stephen Waarts, and even fiddlers such as Jeremy Kittel. They work well on many different types of instruments.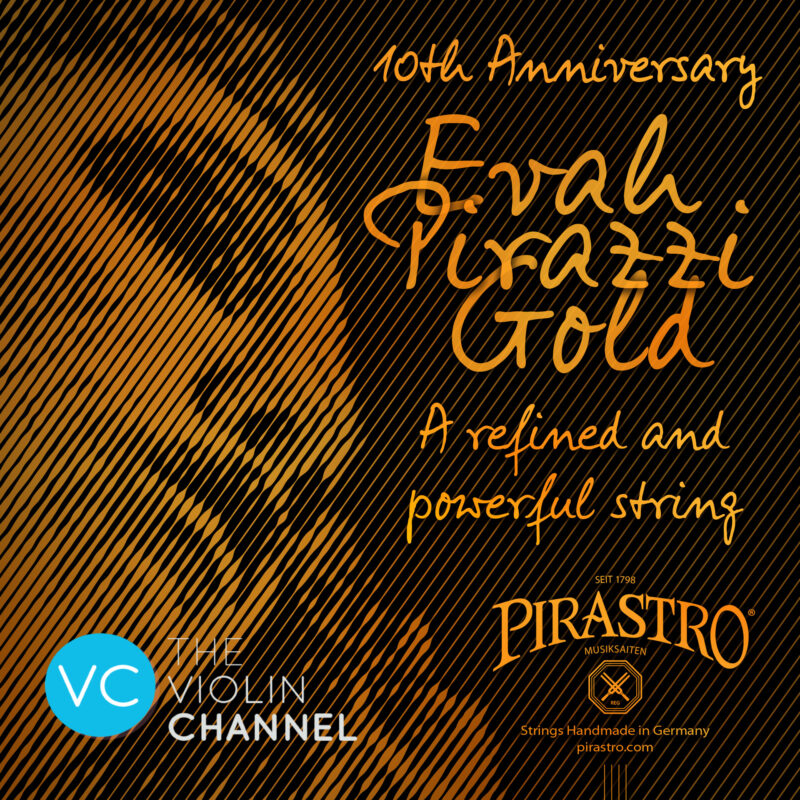 What are they made from, and how do these materials affect the sound timbres?
The Evah Pirazzi Gold are made using the same synthetic core material as Evah Pirazzi, Obligato, and Perpetual, but uses a different type of construction for the outer windings. This construction locks the core of the strings in place allowing for better tuning stability and a faster break-in time. They also have a very polished outer finish which allows for all the colors and overtones.
How do they differ from your longstanding Evah Pirazzi standard string set?
The Evah Pirazzi has a clearer more direct tone while the Evah Pirazzi Gold has more warmth and overtones.
Does the Gold set come with variations?
Yes, the Evah Pirazzi Gold has the option for either a Gold or Silver wound G-string. The Gold wound G offers a round and full tone while the Sliver wound G offers a very direct sound.
How can a violinist know which combination might be the most effective for them and their instrument?
It all depends on personal taste and styles of music. If a player wants to blend more with an orchestra then the gold G is a nice choice, while the silver G works nicely for soloists or players who need to stand out.
Within the Pirastro string set family, where would you say the Evah Pirazzi Gold set would sit compared to your other sets?
The Evah Pirazzi Gold fits nicely between the Evah Pirazzi and Obligato violin sets.
Since 2012, you have also developed the Gold set for violists and cellists. Do they also carry the same characteristics and fulfill the same needs?
Yes, all of the Evah Pirazzi Gold strings share the same tonal warmth. The Evah Pirazzi Gold viola sets are extremely popular and the Evah Pirazzi Gold cello steel strings are great for players looking for a gut-like tone and response.
Do you have anything special plans to celebrate the milestone?
Indeed, we are looking forward to celebrating the Evah Pirazzi Gold 10th anniversary on our Facebook and Instagram with our PIRASTRO Artists and the community. For our viola players, we are planning to introduce an all-steel core Evah Pirazzi Gold viola set shortly. After the success of the Evah Pirazzi Gold steel rope core viola C-string, many players have been asking us to make a complete steel core set.
What was Mr. Volker Müller-Zierach's inspiration for the package design?
That is a drawing Volker Müller-Zierach made of his wife Eva. It first came out colored in green for our Evah Pirazzi strings and received a golden color for the Evah Pirazzi Gold strings.
If our readers would like to learn more, where can they find more information about the Pirastro Evah Pirazzi Gold string sets?
They can find more information on Evah Pirazzi Gold strings on our Pirastro website www.pirastro.com or by following us on Facebook and Instagram.