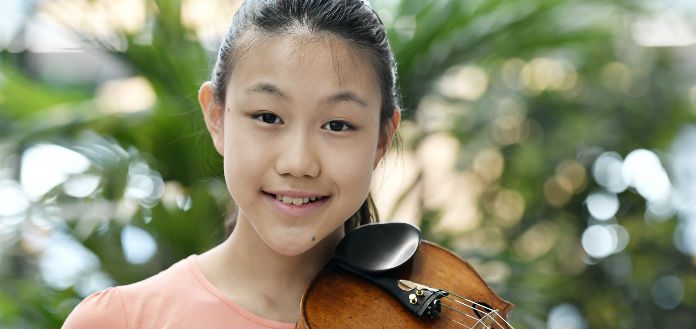 13-year-old German violinist Clara Shen is quickly building an international reputation as an emerging young concert artist of outstanding potential.
A student of Paul Roczek at the Mozarteum University Salzburg and Sonja Korkeala at the University of Music and Performing Arts Munich, Clara is a former major prize winner at the Kloster Schöntal International Violin Competition and Zhuhai International Mozart Violin Competition for Young Musicians - and was last month awarded 4th prize in the Junior Division of the 2018 Menuhin Competition in Geneva.
Clara's recent solo engagements include performances with the Bavarian Philharmonic Symphony Orchestra, Bad Reichenhall Philharmonic Orchestra, Salzburg Chamber Soloists and L'Orchester de Chambre de Genève.
She currently performs on a 1740 Antonio Testore violin – on generous loan from the Deutsche Stiftung Musikleben.
https://www.youtube.com/watch?v=19PxXxkKzf4&feature=youtu.be
VC RISING STAR CLARA SHEN & SAYA HASHINO | BACH | SONATA NO. 4 FOR CEMBALO & VIOLIN | 1ST & 2ND MVTS | 2018 MENUHIN COMPETITION 
https://www.youtube.com/watch?v=FTFxjx-7UYk&feature=youtu.be
VC RISING STAR CLARA SHEN & SAYA HASHINO | DVORAK | ROMANTIC PIECES | NOS. 1, 2, 3 | 2018 MENUHIN COMPETITION 
https://www.youtube.com/watch?v=Ex7M--9qw_E&feature=youtu.be
VC RISING STAR CLARA SHEN & NICOLA EIMER | SCHUBERT | VIOLIN SONATA IN A MAJOR | 1ST MVT | 2018 MENUHIN COMPETITION 
https://www.youtube.com/watch?v=ozYTTGgQ9S8&feature=youtu.be
VC RISING STAR CLARA SHEN & NICOLA EIMER | SAINT-SAËNS | HAVANAISE | 2018 MENUHIN COMPETITION 
https://www.youtube.com/watch?v=dwJnMn8Myys&feature=youtu.be
VC RISING STAR CLARA SHEN & JELICA MIJANOVIC | PIAZZOLLA | HISTOIRE DU TANGO, CAFÉ 1930 | 2018 MENUHIN COMPETITION 
https://youtu.be/x09cIfhaxn0
VC RISING STAR CLARA SHEN | VIVALDI | THE FOUR SEASONS | WINTER | L'ORCHESTRE DE CHAMBRE DE GENEVE | 2018 MENUHIN COMPETITION 
https://www.youtube.com/watch?v=Av_jUQcCbyk&feature=youtu.be
VC RISING STAR CLARA SHEN | JAEHYUCK CHOI | SELF IN MIND | 2018 MENUHIN COMPETITION 
VC RISING STAR CLARA SHEN | MOZART | VIOLIN CONCERTO NO. 5 | SALZBURG CHAMBER SOLOISTS | 2017 2ND ZHUHAI INTERNATIONAL MOZART COMPETITION FOR YOUNG MUSICIANS 
VC RISING STAR CLARA SHEN | MOZART | VIOLIN CONCERTO NO. 3 | SALZBURG CHAMBER SOLOISTS | 2018 
Name: Clara Shen
Violin: 1740 Antonio Testore - On generous loan from the Deutsche Musik Stiftung
Bow: Luan Ruy
Teacher: Paul Roczek | Sonja Korkeala