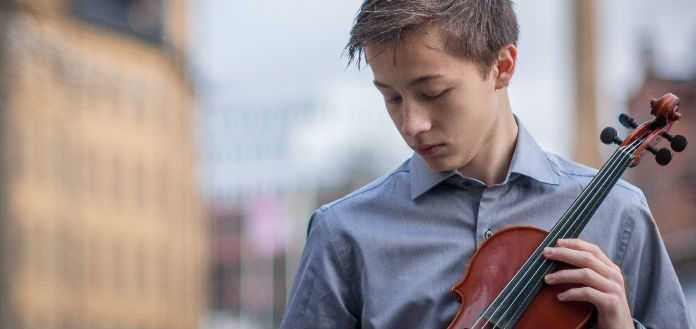 15 year old Swedish violinist, Johan Dalene is quickly building an international reputation as an emerging young virtuoso of outstanding potential.
A student of Professor Per Enoksson, Johan was recently awarded the 3rd prize, plus the 'Wieniawski', 'Chamber Music' and 'EMCY Prize for Exceptional Performance' at the 2016 Menuhin Competition, in London.
He is former 1st prize winner at the 'Talents of Europe' Competition, Stockholm International Music Competition and the Kocian International Violin Competition.
https://www.youtube.com/watch?v=ZPPmh34NaI4&showinfo=0&autohide=1
JOHAN DALENE | VIVALDI | WINTER FROM 'THE FOUR SEASONS' | YEHUDI MENUHIN ORCHESTRA | 2016 MENUHIN INTERNATIONAL VIOLIN COMPETITION
https://www.youtube.com/watch?v=BtKhTjyFoR8&showinfo=0&autohide=1
JOHAN DALENE & TADASHI IMAI | ENESCU | BALLADE | 2016 MENUHIN INTERNATIONAL VIOLIN COMPETITION
https://www.youtube.com/watch?v=SHuACENhEOs&showinfo=0&autohide=1
JOHAN DALENE & NICOLA EIMER | YSAYE | CAPRICE D'APRES L'ETUDE | 2016 MENUHIN INTERNATIONAL VIOLIN COMPETITION 
https://www.youtube.com/watch?v=j2RkzOMlopQ&showinfo=0&autohide=1
JOHAN DALENE & NICOLA EIMER | BEETHOVEN | SONATA NO. 1 | 1ST MVT | 2016 MENUHIN INTERNATIONAL VIOLIN COMPETITION
https://www.youtube.com/watch?v=kYJbCdJk6Jc&showinfo=0&autohide=1
JOHAN DALENE | WIENIAWSKI | ETUDE-CAPRICE OP. 18, NO. 4 | 2016 MENUHIN INTERNATIONAL VIOLIN COMPETITION
https://www.youtube.com/watch?v=INWzxZwrwp8&showinfo=0&autohide=1
JOHAN DALENE & TADASHI IMAI | GRIEG | SONATA NO. 1 | 1ST MVT | 2016 MENUHIN INTERNATIONAL VIOLIN COMPETITION 
JOHAN DALENE | TCHAIKOVSKY | VIOLIN CONCERTO | 3RD MVT | ANNA MARIA-HELSING & GOTHENBURG SYMPHONY ORCHESTRA
JOHAN DALENE & DANIEL THORELL | HANDEL-HALVORSEN | PASSACAGLIA 
Name: Johan Dalene
Violin: Eero Haahti 2013
Bow: Eero Haahti
Accessories: Wolf Shoulder Rest, Örebro Violinateljè Rosin
Teacher: Professor Per Enoksson
School: Hagaskolan, Norrköping