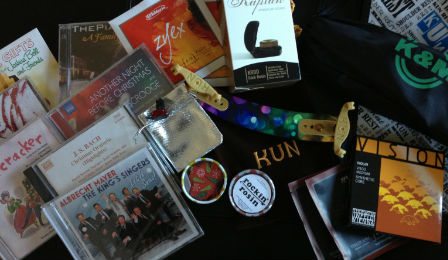 And the winners are in!  The following 5 x extremely lucky The Violin Channel Store customers will each be receiving an 'Ultimate VC Christmas Gift Pack' - valued at over $600 each
Courtenay Cleary from Karalee, Australia, Joel Link from Philadelphia, USA, Cary Ripllinger from South Jordan, USA, Veronika Kashina from Oslo, Norway - and Amy Lin from Cary, USA
Each pack contains:
An autographed CD copy of 'Musical Gifts from Joshua Bell and Friends' – Personally hand signed by Joshua Bell
2 x D'Addario Zyex violin string sets
A Thomastik-Infeld Vision violin string set
2 x Kaplan violin E strings
1 x D'Addario Rosin
A String-Bling Swarovski crystal Bech violin mute
A Kun Artist Series violin shoulder rest
A K&M foldable violin stand
CD copy of Albrecht Mayer and the King's Singers 'Let it Snow!'
CD copy of The Piano Guy's 'A Family Christmas'
A Naxos CD copy of Bach's 'Christmas Oratorio'
A Naxos CD copy of Bob Chilcott's 'The Rose in the Middle of Winter Carols'
A Naxos CD Copy of Rimsky Korsakov's 'Christmas Eve'
A Naxos CD Copy of Tchaikovsky's 'Nutcracker'
2 x awesome Christmas-themed Rockin' Rosins violin rosin
Congratulations to our winners! Thank you for shopping in The Violin Channel Store - and 'Ho! Ho! Ho!' from all of us here at The VC!