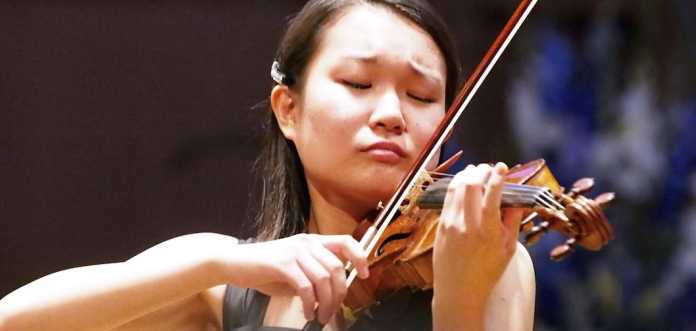 20 year old Japanese violinist, VC Young Artist Ayana Tsuji is quickly building an international reputation as a one of the finest young virtuosi to emerge in recent years.
A student of Professor Koichiro Harada at the Tokyo College of Music, Ayana is a former major prize winner at the Seoul, Munetsugu Angel, Hannover and Indianapolis International Violin Competitions - and was awarded 1st prize at the 2016 Montreal International Violin Competition, in Canada.
Her recent solo debuts include performances with the Montreal Symphony, Nagoya Philharmonic, Kanagawa Philharmonic, Osaka Symphony, Central Aichi Symphony, Yokohama Sinfonietta, Tokyo City Philharmonic, Chubu Philharmonic, Czech Philharmonic Chamber Orchestra and the Sejong Soloists.
In May of 2018, she is scheduled to make her solo debut performance with Maestro Zubin Mehta and the Israel Philharmonic Orchestra.
Ayana currently performs on the 1748 Joannes Baptista Guadagnini violin - on generous loan from Japan's Yellow Angel NPO Corporation.
She is currently under general management with Kajimoto, Japan.
AYANA TSUJI | SIBELIUS VIOLIN CONCERTO | GIANCARLO GUERRERO & ORCHESTRE SYMPHONIQUE DE MONTRÉAL | 2016 MONTREAL INTERNATIONAL VIOLIN COMPETITION | 1ST PRIZE | 18 YEARS OLD
AYANA TSUJI & PHILIP CHIU | BEETHOVEN | VIOLIN SONATA NO. 6 IN A MAJOR | 2016 MONTREAL INTERNATIONAL VIOLIN COMPETITION | 1ST PRIZE | 18 YEARS OLD
https://www.youtube.com/watch?v=AjniXWoRzQ4&feature=youtu.be
AYANA TSUJI & PHILIP CHIU | STRAVINSKY | DUO CONCERTANT | 2016 MONTREAL INTERNATIONAL VIOLIN COMPETITION | 1ST PRIZE | 18 YEARS OLD
AYANA TSUJI | PAGANINI | CAPRICE NO. 21 | 2016 MONTREAL INTERNATIONAL VIOLIN COMPETITION | 1ST PRIZE | 18 YEARS OLD
AYANA TSUJI | BACH | PARTITA NO. 1 FOR SOLO VIOLIN, BWV 1002 | ALLEMANDE, COURANTE, SARABANDE | 2016 MONTREAL INTERNATIONAL VIOLIN COMPETITION | 1ST PRIZE | 18 YEARS OLD
https://www.youtube.com/watch?v=Cls-ANasQn4
AYANA TSUJI | MOZART | VIOLIN CONCERTO NO. 3 | MUNICH CHAMBER ORCHESTRA | 2015 JOSEPH JOACHIM INTERNATIONAL VIOLIN COMPETITION HANNOVER | 17 YEARS OLD
https://www.youtube.com/watch?v=MmPibkgQnAc
AYANA TSUJI & THOMAS HOPPE | SAINT-SAENS | INTRODUCTION ET RONDO CAPRICCIOSO | 2015 JOSEPH JOACHIM INTERNATIONAL VIOLIN COMPETITION HANNOVER | 17 YEARS OLD
https://www.youtube.com/watch?v=qhEPxauR-DQ
AYANA TSUJI & THOMAS HOPPE | PROKOFIEV | VIOLIN SONATA NO. 1 IN F MINOR | 2015 JOSEPH JOACHIM INTERNATIONAL VIOLIN COMPETITION HANNOVER | 17 YEARS OLD