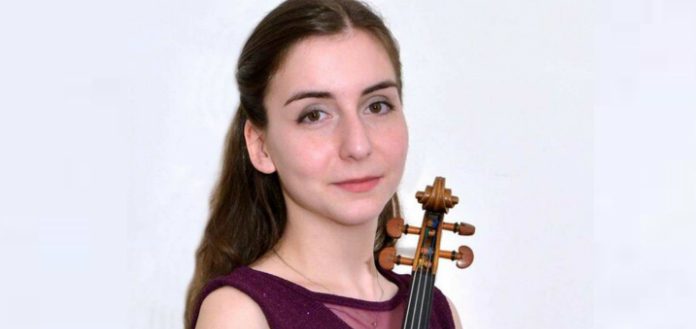 18-year-old Armenian violinist Diana Adamyan is quickly building an international reputation as one of the new generation's most promising and gifted young concert soloists.
A graduate of the Tchaikovsky School of Music where she studied with Petros Haykazyan, and current student of Ana Chumachenco at the Munich University of Music and Performing Arts, Diana is a former major prize winner at the Bogdanyan International Violin Competition and the Tchaikovsky Youth Competition- and was in April of this year awarded 1st prize in the Senior Division of the 2018 Menuhin Competition, in Geneva.
His recent debuts include solo performances with the Royal Philharmonic Orchestra and the Tchaikovsky Symphony Orchestra.
VC YOUNG ARTIST DIANA ADAMYAN | BRUCH VIOLIN CONCERTO | JULIAN RACHLIN & ROYAL PHILHARMONIC ORCHESTRA | 2018 MENUHIN COMPETITION SENIOR 1ST PRIZE | 18-YEARS-OLD
VC YOUNG ARTIST DIANA ADAMYAN & PINCHAS ZUKERMAN | BACH | DOUBLE VIOLIN CONCERTO | ROYAL PHILHARMONIC ORCHESTRA | 2015
VC YOUNG ARTIST DIANA ADAMYAN | BEETHOVEN | STRING QUARTET OP. 18 NO. 4 | 1ST MVT | 2018 MENUHIN COMPETITION SENIOR 1ST PRIZE | 18-YEARS-OLD
VC YOUNG ARTIST DIANA ADAMYAN & SAYA HASHINO | MOZART | VIOLIN CONCERTO NO. 3 IN G MAJOR | 1ST MVT | 2018 MENUHIN COMPETITION SENIOR 1ST PRIZE | 18-YEARS-OLD
VC YOUNG ARTIST DIANA ADAMYAN & SAYA HASHINO | KREISLER | MARCHE MINIATURE VIENNOISE | 2018 MENUHIN COMPETITION SENIOR 1ST PRIZE | 18-YEARS-OLD
VC YOUNG ARTIST DIANA ADAMYAN & ASTGHIK GHUKASYAN | BRAHMS VIOLIN SONATA NO. 3 IN D MINOR | 2018 MENUHIN COMPETITION SENIOR 1ST PRIZE | 18-YEARS-OLD
VC YOUNG ARTIST DIANA ADAMYAN | YAIR KLARTAG | HALF TIGER, HALF POET | 2018 MENUHIN COMPETITION SENIOR 1ST PRIZE | 18-YEARS-OLD
VC YOUNG ARTIST DIANA ADAMYAN & ASTGHIK GHUKASYAN | KREISLER | SCHÖN ROSMARIN | 2018
VC YOUNG ARTIST DIANA ADAMYAN | MILSTEIN | PAGANINIANA
Name: Diana Adamyan
Violin: 1786 Nicolaus Gagliano from Christophe Landon Rare Violins
Bow: Christophe Landon
Strings: Obligato | Evah Pirazzi
Accessories: FOM Shoulder Rest
Teacher: Petros Haykazyan | Eduard Tadevosyan | Ana Chumachenco
School: Tchaikovsky School of Music | University of Music and Performing Arts Munich
Comments
comments