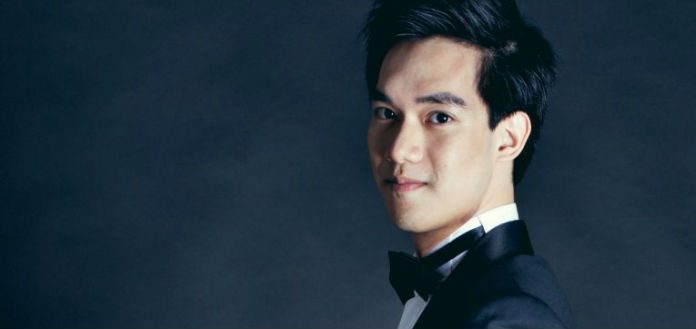 26 year old Taiwanese-American VC Young Artist Richard Lin is quickly building an international reputation as one of the new generation's most promising and gifted young concert soloists.
A graduate of the Juilliard School and the Curtis Institute of Music, where he studied with Lewis Kaplan and Aaron Rosand, Richard was a former major prize winner at the Wieniawski, Shanghai, Michael Hill, Singapore and Hannover International Violin Competitions – and was awarded 1st Prize at the prestigious 2013 Sendai International Violin Competition, in Japan.
His recent debuts include solo performances with the Shanghai Symphony Orchestra, Poznan Philharmonic, Polish Baltic Philharmonic, Arthur Rubinstein Philharmonic of Lodz, Nova Vista Symphony Orchestra and Amadeus Polish Radio Chamber Orchestra.
Richard currently performs on a 1840 Joannes Franciscus Pressenda violin – on generous loan from the Rin Collection, Singapore.
RICHARD LIN | BEETHOVEN VIOLIN CONCERTO | 2016 INTERNATIONAL HENRYK WIENIAWSKI VIOLIN COMPETITION | MAREK PIJAROWSKI & POZNAŃ PHILHARMONIC ORCHESTRA
RICHARD LIN & KATARZYNA BUDNIK-GAŁAZKA | MOZART | SINFONIA CONCERTANTE | 1ST MVT | AGNIESZKA DUCZMAL & POLISH RADIO CHAMBER ORCHESTRA | 2016 INTERNATIONAL HENRYK WIENIAWSKI VIOLIN COMPETITION 
RICHARD LIN & HANNA HOLEKSA | BRAHMS | SONATA NO. 3 FOR VIOLIN AND PIANO IN D MAJOR, OP. 108 | 2016 INTERNATIONAL HENRYK WIENIAWSKI VIOLIN COMPETITION 
RICHARD LIN & HANNA HOLEKSA | FAURÉ | APRÈS UN RÊVE | 2016 INTERNATIONAL HENRYK WIENIAWSKI VIOLIN COMPETITION 
RICHARD LIN | WIENIAWSKI | VIOLIN CONCERTO NO. 2 IN D MINOR | ROMANCE | ŁUKASZ BOROWICZ & POZNAŃ PHILHARMONIC ORCHESTRA | 2016 INTERNATIONAL HENRYK WIENIAWSKI VIOLIN COMPETITION
RICHARD LIN | KORNGOLD | VIOLIN CONCERTO | HENDRIK VESTMANN & NDR RADIOPHILHARMONIE | 2015 JOSEPH JOACHIM INTERNATIONAL VIOLIN COMPETITION HANNOVER  
RICHARD LIN | MOZART | CONCERTO NO. 5 | MUNICH CHAMBER ORCHESTRA | 2015 JOSEPH JOACHIM INTERNATIONAL VIOLIN COMPETITION HANNOVER
RICHARD LIN & NATSUMI OHNO | WIENIAWSKI | FANTASIE BRILLANTE | 2015 JOSEPH JOACHIM INTERNATIONAL VIOLIN COMPETITION HANNOVER
RICHARD LIN & NATSUMI OHNO | JOACHIM | ROMANCE | 2015 JOSEPH JOACHIM INTERNATIONAL VIOLIN COMPETITION HANNOVER
RICHARD LIN | BRAHMS | VIOLIN CONCERTO | 3RD MVT | 2015 SINGAPORE INTERNATIONAL VIOLIN COMPETITION
Name: Richard Lin
Violin: 1840 Joannes Franciscus Pressenda (Kindly on loan by the Rin Collection, Singapore)
Bow: Eugene Sartory  (Kindly on loan by the Rin Collection, Singapore)
Teachers: Aaron Rosand, Lewis Kaplan
Comments
comments