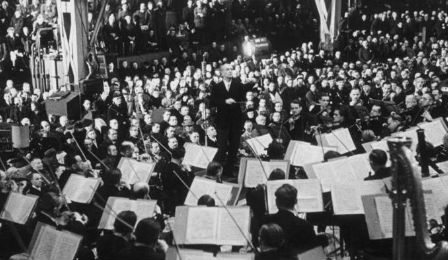 It has been announced that the Vienna Philharmonic Orchestra is set to return a valuable painting, looted by the Nazis and gifted to the orchestra in 1940, to a French family.
The heirs of the painting's late owner, Marcel Koch will receive "Port-en-Bessin" by neo-Impressionist Paul Signac at a special ceremony later this year, an orchestra official has indicated.
The announcement comes as the latest step by the Vienna Philharmonic to address its past association with Nazism – after last year announcing several awards presented by the orchestra, during Hitler's rule to six leading Nazis, have now been revoked.
Historians have calculated that in 1942 more than 50% of the Vienna Philharmonic's musicians were Nazi party members and that 13 musicians with Jewish origin were sacked from the orchestra – leaving 5 to die in concentration camps.
"We have tried for many years to come to grips with the Vienna Philharmonic's past and face up to our responsibility to make good historical injustices," Orchestra Director Clemens Hellsberg has said, " ...restitution of this painting is a special concern of ours."
The Philharmonic has indicated it will continue to search its archives for further stolen artifacts.