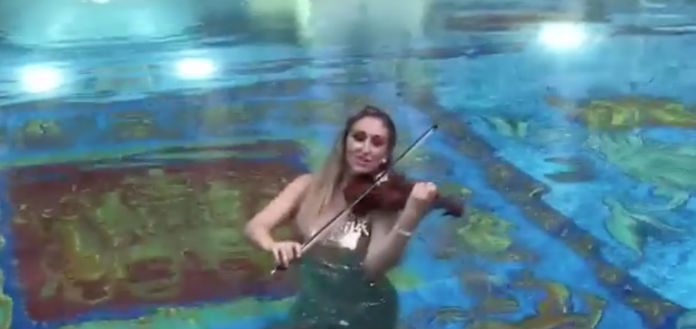 New York-based violinist Danielle Marien Turano performing in the 1 million dollar 24K gold mosaic Versace Mansion pool - in Miami Beach, Florida, United States.
Video taken during a photo shoot for luxury lifestyle brand 'Live Your Beauty' - for an upcoming feature in Luxury Weddings magazine.
"The pool was magnificent ... but I won't lie, I was really worried that the pool would suddenly get too deep and I'd have to throw my violin above my head ..." Danielle has told The Violin Channel.
"My main performance instrument is a violin by modern maker Jonathan van Kouwenhoven, I didn't use this for this shoot, of course ... I used my 'rain fiddle' ... fitting for this circumstance, no?" The Hartt School of Music-graduate has said.