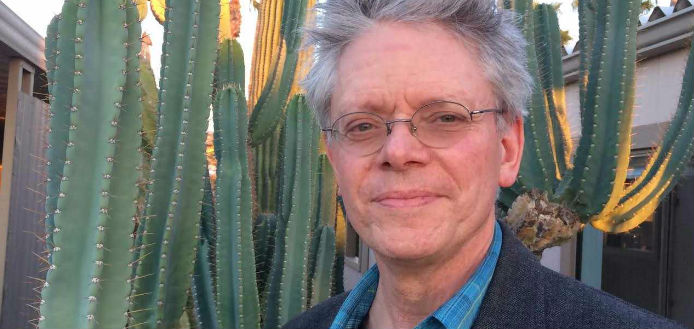 The Violin Channel recently caught up with legendary Kronos Quartet violinist, Mr David Harrington.
In a VC-exclusive blog, David shares ten of his most cherished experiences with the ensemble over the past 40 years.
"I. Veda Reynolds came to many of Kronos' concerts in Paris. I am so fortunate to have had Veda as my teacher for thirty years. She was the kindest, most thorough teacher imaginable. Toward the end of her life, she brought her binoculars to our concerts. I could always feel her complete attention on every aspect of my playing. At my last lesson, after we had worked on one note for several hours, Veda said 'The great thing about music is that it can always be better.'
II. We were rehearsing with Morton Feldman and Aki Takahashi late one night on Feldman's Piano and String Quartet. Morton said, 'It should sound like Schubert.' We then all knew instantly how Morton's music should sound. As in Schubert, one needs to take immense, loving care for every aspect of making each tone. When playing Feldman, the preparation and follow through of each bow stroke is paramount, and every pizzicato needs as much flesh on the string as possible. 
III. One summer afternoon, we were rehearsing Terry Riley's "Conquest of the War Demons," the second part of his immense, five-part string quartet Salome Dances for Peace at Tanglewood. Out of the corner of my eye, I saw a vague figure dancing toward us. The dancer got closer. Finally, I took a real look and realized it was Leonard Bernstein. I stopped playing. Bernstein said, 'Don't stop! This is great! It sounds like Egyptian whorehouse music to me. Who wrote this?' That's how Kronos met Leonard Bernstein.
IV. After our concert at Teatro Colon in Buenos Aires, Laura Piazzolla invited us to her home. Astor had died some years before. Among her guests was Fernando Suarez Paz, Piazzolla's fabulous violinist. Fernando has the very best last name of any violinist in history, Paz translates to peace in English. As it got later and later, tango dancing lessons materialized in the Piazzolla home. Before I knew it, I was in the hopeless position of having my very first tango lesson with Fernando's wife Beatriz. After several unfortunate stumbles, I pleaded with Fernando, 'Please show me how to dance.' Fernando said slowly in his low smoky voice, 'David, violinists don't dance.'
V. Nicolae Neacșu was the founder of Taraf de Haïdouks. Kronos has had a number of occasions to perform together with the Taraf. I loved when Nicolae showed me how to make a life altering sound by attaching a lute string to the G string of the violin, rosin the lute string with rosin dust, rosin your right first finger and right thumb, and then pull the rosined string and make the violin sound like a strange possessed voice. When I first heard Nicolae's "Ballad of the Dictator" and that sound, I knew that I had to meet the person who made his violin sound that way. It helped the overall effect that Nicolae had the most amazing pointed wart on the first finger of his left hand!
The last time I saw Nicolae, it was at a breakfast we had alone in Iceland—two group founders with no common language between us—just nodding to each other and smiling. Years later, after his death, I visited Clejani, Nicolae's village in Romania. His son and grandson played music in his home after his daughter-in-law cooked an incredible dinner.
VI. Clarence Jones was Martin Luther King Jr.'s lawyer, researcher and, eventually, speech writer. I heard him describe a pivotal moment in American history on C-SPAN late one night. That moment is when Mahalia Jackson, the essential voice of gospel music, called out to MLK, 'Tell them about your dream, Martin. Tell them about your dream.' I realized that Kronos had to try to celebrate that moment in a new piece. In February 2017, we went into Women's Audio Mission recording studio in San Francisco and recorded Clarence telling this story. There will be a new piece by Zachary James Watkins to be premiered in 2018 using the voice of Clarence Jones. Clarence studied clarinet at Juilliard and internalized MLK's voice; Mahalia was MLK's favorite singer, and she would sometimes console him by singing over the phone in tough moments. Musicians stepped up to the plate.
VII. My daughter Bonnie Quinn is a third-grade teacher in the San Francisco Unified School District. Kronos played in her schools when she was growing up, and now we play in her classroom for her students. One of the most remarkable moments ever for me was when we played four of Kronos' Fifty for the Future pieces last year in Bonnie's classroom. I announced that we would begin by playing "Dimensions," the third movement of Garth Knox's Satellites, and Bonnie's students cheered before they had heard a note! Turns out that Bonnie had introduced her students to the project's website, and they learned about all of the different ways to make sounds on our instruments from a terrific video Carnegie Hall made with Garth for Fifty for the Future. When I asked the class how many of them were going to play an instrument in fourth grade, every kid in the class raised their hands!
VIII. Kronos played in Lebanon and performed Ali Jihad Racy's music there. His music required me to make a scordatura tuning, which is very challenging to do during a concert. In front of the entire audience, I lowered my E string to a D and my A string to a G. I couldn't believe what happened. My violin, all of a sudden, embraced another musical culture right before my eyes and ears—it was an astonishing transformation. I'll never forget that moment, and I've wanted to use every seed in that seminal moment to learn all of the lessons possible from it.
 
IX. One night, I was invited to a fabulous dinner at Zhou Long and Chen Yi's home. After dinner, we began watching music videos. At a certain point, I saw and heard Wu Man playing pipa for the first time. The vividness of her sound, the mastery and ease of her playing suggested Kronos could learn a great deal from her, and, by performing together, there could be a new sound in our music. Wu Man has been a favorite collaborator of ours ever since. Her immense knowledge of Chinese culture inspires us.
X. Every once in a while, I'm lucky to have a practice session that I can't forget. This happened in Austin, Texas, the day before Kronos was going the perform our version of Abel Meeropol's "Strange Fruit," inspired by the recorded performance of Billie Holiday. I had wanted us to play "Strange Fruit" since the very beginnings of Kronos. Somehow, it hadn't felt like we were ready to tackle this most central song of our troubled American history. But finally, we had scheduled it, and the premiere was the next day.
So I turned off all the lights in a practice room and tried to make my violin sound as much like Billie Holiday as I could. It was a magical moment in my life's work. My bow magically turned into an imaginary breath that was breathing over the vocal chords of my strings, and my fingers knew exactly what they had to do. My instrument has never sounded like this. I'm not sure that I can ever do this again, but I know for sure that it happened once.
We've played "Strange Fruit" many times since then. I keep searching again for those moments discussed in the dark in Austin, because I had become a more complete musician. As it is, I have to live with the traces of that amazing elusive practice session and allow the future to be directed by a perfection that may never return.
-David"