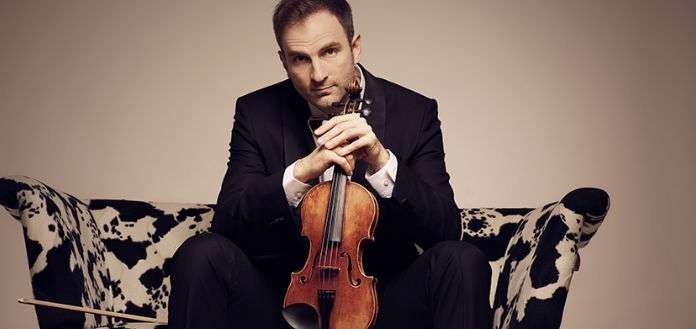 In a VC-exclusive guest blog, Serbian-born violin virtuoso Stefan Milenkovich shares his insights and tips for building your own unique interpretation of a standard work.
''Starting to work on a new piece is always exciting – and even more so if the piece is one of the popular warhorses of the repertoire!
I personally try to leave no stone unturned when it comes to developing my interpretation, with the ultimate goal being quite simple: freedom. After I look at the historical context - and take as many musical and technical things in consideration - I am ultimately looking to feel completely spontaneous in my interpretation. In other words, it's all about being true to yourself on stage, where there are no boundaries between my intentions and my interpretation, which ultimately arrives to the audience in the same way I intend it to be felt and understood. Obviously, this is easier said then done… but it is an ideal.
But first things first. One of the obvious things I do is to get a nice, clean copy of the score (ideally Urtext). Seems like a given, but I see too many students and some of my colleagues ( I was one of them more then once!) that have their music all over the place, bad page turns, old copies that are just waiting to be ripped off next time you try to turn that page, or some heavily and arbitrarily edited edition that basically implies a certain interpretation (and often, quite personal interpretation at that).
So, I start with a clean slate, which helps me feel more organized already - although I haven't played a single note yet! (laugh) Anyway, after that, I usually start with the hardest part of the piece, whatever part scares me the most. It could be the end of the piece, cadenza, some tricky spot etc. For me, this is psychological as I believe a work should be learned as evenly as possible, which obviously means varied amounts of work for different parts of that piece.
Within this approach, I start memorizing immediately. I know, I know…. This is essentially not REALLY possible! But it is another way to make myself feel good while learning the piece. Even if I memorize three notes at the end of the work, two bars of the second movement, and a passage from the cadenza, it still feels like I am hitting the ground running right off the bat. It's all about cultivating the feeling of successful preparation, no matter what the piece is or how difficult.
Now I start layering the piece just like you would build a house (I assume that's how you would build it, as I've never actually done it…. But you know what I mean…😊). Laying down the foundation, keeping the progress even, not neglecting any part of it etc. But since we are talking about a standard work, here is where you already develop your interpretation. So, what to do? The piece has been played countless times, recorded… everyone knows it. Well, what I ask myself is: what is this piece about, and how does it relate to what I am about as an artist on stage? Everyone will look for something different in their performances – just like various audiences do. Whether you try to be incredibly original and different, or you just go for a standard and "safe" interpretation, it's always going to be YOUR interpretation, because YOU are playing it.
In a sense, learning a standard work is perhaps easier than learning something "off the grid" because, no matter what you do, you'll find someone that likes how you play it! If you sound "just like Oistrakh's recording", then… well, that's pretty amazing! (laugh). And if you sound like you're actually not playing the piece that is printed in the program booklet… Well, even then, someone will say: "Such a fresh approach! I am tired of everyone playing this piece in the same way." In conclusion, how one prepares a standard piece is not as important as actually believing in everything you are doing. But when you do believe in every note you're playing, this is when you identify with the work, and the audience identifies with you as an artist
-Stefan''
A graduate of the Belgrade Music Academy and The Juilliard School, Stefan is a former major prize winner at the Menuhin, Queen Elisabeth, Lipizer, Paganini, Tibor Varga, Joseph Joachim, Louis Spohr and Indianapolis International Violin Competitions - and the Young Concert Artists International Auditions | A former teaching assistant to Dorothy DeLay and Itzhak Perlman at The Juilliard School, Stefan currently holds teaching positions on faculty at the University of Illinois and the University of Belgrade