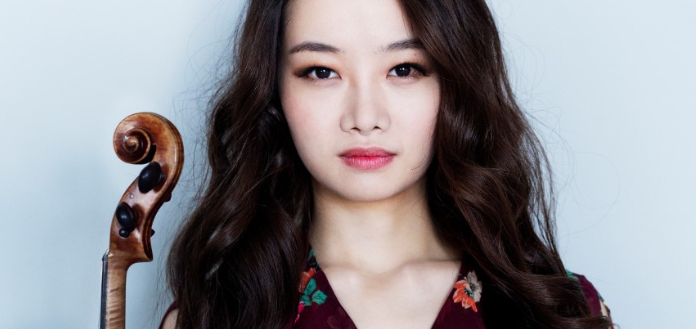 South Korean violin virtuoso Bomsori Kim has, in recent years, firmly established herself as one of today's eminent young international concert artists - praised by NDR Radio in Germany as "one of the most dynamic and exciting violinists of today."
An Artist Diploma graduate of The Juilliard School, where she studied with Sylvia Rosenberg and Ronald Copes, Bomsori is a former major prize winner at the Wieniawski, Montreal, Joseph Joachim, Tchaikovsky, Sendai, Sibelius, Qingdao and ARD International Violin Competitions.
Her recent orchestral debuts include solo performances with the New York Philharmonic, Bavarian Radio Symphony, KBS Symphony Orchestra, Finnish Radio Symphony, Montreal Symphony, Helsinki Philharmonic and the Munich Chamber Orchestra - and recitals at Vienna's Musikverein Golden Hall and Moscow's Tchaikovsky Hall.
Bomsori's upcoming debuts included solo performances with the National Symphony Orchestra, Nashville Symphony Orchestra and the LA Philharmonic at the Hollywood Bowl.
She is also scheduled to appear at the Rheingau, Heidelberger Fruehling and Solsberg Music Festivals.
Bomsori currently performs on a 1774 Giovanni Battista Guadagnini violin - on generous loan from the Kumho Instrument Bank.
She is represented by the Hannover-based Liu Kotow International Management for worldwide General Management - and Kirshbaum Associates in New York City for North American representation.
VC ARTIST BOMSORI KIM | TCHAIKOVSKY VIOLIN CONCERTO | FABIO LUISI & THE KBS SYMPHONY ORCHESTRA | 2019
VC ARTIST BOMSORI KIM | SHOSTAKOVICH VIOLIN CONCERTO NO. 1 IN A MINOR | GIANCARLO GUERRERO & MONTREAL SYMPHONY ORCHESTRA | 2016 MONTREAL INTERNATIONAL VIOLIN COMPETITION
VC ARTIST BOMSORI KIM | WIENIAWSKI | VIOLIN CONCERTO NO. 2 IN D MINOR | MAREK PIJAROWSKI & POZNAŃ PHILHARMONIC | 2016 WIENIAWSKI INTERNATIONAL VIOLIN COMPETITION 
VC ARTIST BOMSORI KIM & RAFAŁ BLECHACZ | SZYMANOWSKI VIOLIN SONATA IN D MINOR | 2019 
VC ARTIST BOMSORI KIM & JEUNG BEUM SOHN | FRANCK VIOLIN SONATA IN A MAJOR | | 2018
VC ARTIST BOMSORI KIM & DONG-HYEK LIM | RAVEL VIOLIN SONATA NO. 2 IN G MAJOR | 2ND & 3RD MVTS | 2018
VC ARTIST BOMSORI KIM | WIENIAWSKI | VIOLIN CONCERTO NO. 2 IN D MINOR | MAREK PIJAROWSKI & POZNAŃ PHILHARMONIC | 2016 WIENIAWSKI INTERNATIONAL VIOLIN COMPETITION 
VC ARTIST BOMSORI KIM & JEONGWON KIM | SAINT-SAENS | INTRODUCTION AND RONDO CAPRICCIOSO IN A MINOR | 2017
https://www.youtube.com/watch?v=R1GfeM9Gq8Q&showinfo=0&autohide=1
VC ARTIST BOMSORI KIM & HANNA HOLEKSA | KREISLER | SCHON ROSMARIN | 2016 WIENIAWSKI INTERNATIONAL VIOLIN COMPETITION 
https://www.youtube.com/watch?v=jYYVgMuoSaw&showinfo=0&autohide=1
VC ARTIST BOMSORI KIM & HANNA HOLEKSA | WIENIAWSKI | POLONAISE BRILLANTE IN D MAJOR, OP. 4 | 2016 WIENIAWSKI INTERNATIONAL VIOLIN COMPETITION 
Name: Bomsori Kim
Violin: 1774 J.B. Guadagnini 
Bow: W.E. Hill & Sons
Teacher: Sylvia Rosenberg | Ronald Copes | YoungUck Kim