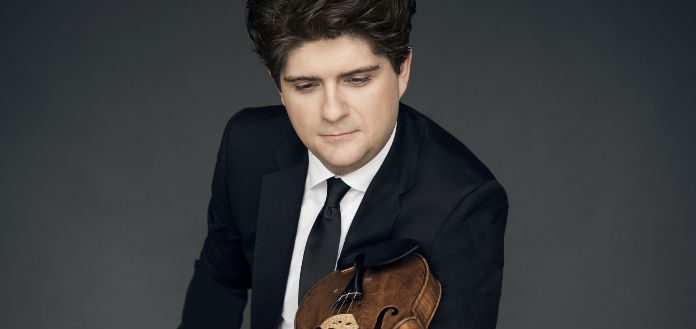 27-year-old Russian-born, French violinist Fedor Rudin is firmly establishing himself as one of the new generation's most outstanding young concert soloists – praised for his maturity, virtuosity and profound musicality.
A graduate of the Salzburg Mozarteum University and the Cologne High School of Music, where he studied with Pierre Amoyal and Zakhar Bron, and current postgraduate student of Boris Kuschnir at the Graz University of Music and Performing Arts, Fedor is former major prize winner at the Paganini, Enescu, Marteau, Khachaturian, Lipizer, and Qingdao International Violin Competitions.
His recent debuts include solo performances with the Basel Symphony Orchestra, Orchestre de Cannes, Cape Town Philharmonic, Petrobras Symphony, Paris Chamber Orchestra, St Petersburg Symphony Orchestra and the Nurnberg Symphony – and recital engagements at the Tonhalle Zurich, Paris Philharmonie and Berlin Konzerthaus.
In February of this year, Fedor was appointed as the new Concertmaster of the Vienna State Opera / Vienna Philharmonic.
He currently performs on a 1779 Lorenzo Storioni violin – on generous loan from the Deutsche Stiftung Musikleben Foundation, in Hamburg.
VC ARTIST FEDOR RUDIN | SHOSTAKOVICH VIOLIN CONCERTO NO.1 IN A MINOR | ANNA RAKITINA & ST. PETERSBURG SYMPHONY ORCHESTRA | 2019
VC ARTIST FEDOR RUDIN & DARIO BONUCCELLI | WIENIAWSKI | POLONAISE IN D MAJOR | 2019
VC ARTIST FEDOR RUDIN, ALEXANDER RUDIN AND IVAN RUDIN | BEETHOVEN | TRIPLE CONCERTO FOR VIOLIN, CELLO & PIANO | URAL YOUTH SYMPHONY ORCHESTRA | 2019
VC ARTIST FEDOR RUDIN | PAGANINI | CAPRICE NO. 9 (ARR. EDISON DENISOV) | MIKHAIL GRANOVSKY & TOMSK SYMPHONY ORCHESTRA | 2019
VC ARTIST FEDOR RUDIN | VIVALDI/PIAZZOLLA | 8 SEASONS (ARR. LEONID DESYATNIKOV) | MUSICA VIVA CHAMBER ORCHESTRA | 2018
VC ARTIST FEDOR RUDIN & PAVEL SHINKEVICH | DENISOV | CHAMBER MUSIC FOR VIOLA, CEMBALO AND STRINGS | MIKHAIL GRANOVSKY & TOMSK SYMPHONY ORCHESTRA | 2019
VC ARTIST FEDOR RUDIN & THOMAS HOPPE | GERSHWIN | 'BESS, YOU IS MY WOMAN NOW' (ARR. HEIFETZ) | 2018
VC ARTIST FEDOR RUDIN | SIBELIUS VIOLIN CONCERTO | MICHAEL ZLABINGER & ORCHESTRA DEL TEATRO CARLO FELICE | 2018 PAGANINI INTERNATIONAL VIOLIN COMPETITION
VC ARTIST FEDOR RUDIN | WIENIAWSKI VIOLIN CONCERTO NO.1 IN F SHARP MINOR | GIANCARLO GUERRERO & ORCHESTRE SYMPHONIQUE DE MONTREAL | 2016 MONTREAL INTERNATIONAL VIOLIN COMPETITION
VC ARTIST FEDOR RUDIN | MOZART VIOLIN CONCERTO NO. 7 IN D MAJOR  | MUNICH CHAMBER ORCHESTRA | 2017 ARD INTERNATIONAL VIOLIN COMPETITION
VC ARTIST FEDOR RUDIN & JANELLE FUNG | FAURÉ | ROMANCE | 2016 MONTREAL INTERNATIONAL VIOLIN COMPETITION
VC ARTIST FEDOR RUDIN & JANELLE FUNG | PAGANINI I I PALPITI | 2016 MONTREAL INTERNATIONAL VIOLIN COMPETITION
Name: Fedor Rudin
Violin: 1779 Lorenzo Storioni
Bows: Voirin | Sartory
Accessories: Thomastik Peter Infeld Rosin
Teacher: Pierre Amoyal | Zakhar Bron | Boris Kuschnir
School: Mozarteum University of Music | Cologne High School of Music | Graz University of Music and the Performing Arts