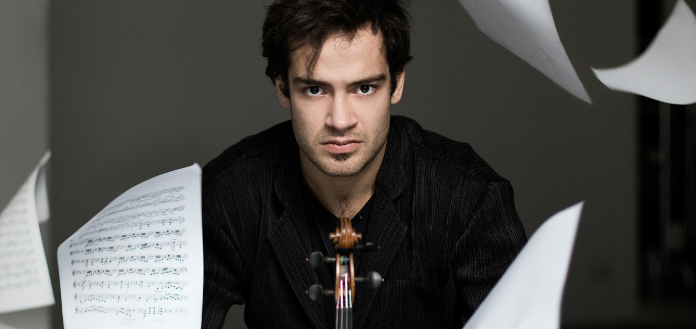 Belgian violinist, VC Artist Marc Bouchkov is building an international reputation as one of the new generation's most multifaceted and unique young concert artists.
A graduate of the Paris Conservatoire and the Kronberg Academy, where he studied with Boris Garlitsky and Mihaela Martin, Marc is a former 1st prize winner at the Henri Koch and Montreal International Violin Competitions – and was recently awarded 2nd prize at the 2019 Tchaikovsky International Violin Competition, in Moscow.
In recent seasons, he has made debut solo performances with the Royal Concertgebouw Amsterdam, Frankfurt Radio Symphony, Tonhalle Orchester Zürich, Orchestre National de Belgique, Orchestra Sinfonica Nazionale RAI Turin, NDR-Sinfonieorchester Hamburg, the Stavanger Symphony Orchestra, Royal Philharmonic Orchestra of Liège, Moscow Philharmonic Orchestra and the Staatsorchester Rheinische Philharmonie.
Marc currently serves teaching professorships on faculty at the Conservatoire Royale de Liège and the International Music Academy, in Liechtenstein.
VC ARTIST MARC BOUCHKOV | TCHAIKOVSKY VIOLIN CONCERTO | STANISLAV KOCHANOVSKY & STAVANGER SYMPHONY ORCHESTRA | 2019
VC ARTIST MARC BOUCHKOV | YSAŸE | SONATA NO. 5 IN G MAJOR | 2019
VC ARTIST MARC BOUCHKOV, VC ARTIST ZLATOMIR FUNG & MAO FUJITA | RAVEL | PIANO TRIO | 2020
VC ARTIST MARC BOUCHKOV | PĒTERIS VASKS | VIOLIN CONCERTO "DISTANT LIGHT" | MICHAEL GUTTMAN, MOSCOW SOLOISTS CHAMBER ORCHESTRA | 2017
VC ARTIST MARC BOUCHKOV | BOUCHKOV | FANTAISIE ON TWO UKRAINIAN FOLK THEMES | 2020
VC ARTIST MARC BOUCHKOV | MOZART VIOLIN CONCERTO NO. 5 IN A MAJOR | 2019
VC ARTIST MARC BOUCHKOV | PAGANINI | CAPRICE NO. 24 | 2019
Violin: Carlo and Michelangelo Bergonzi 1742-1744
Bow: Victor Fetique
Strings: Peter Infeld PI
Accessories: Gold Laubach Rosin, Lang Violin Case
Schools: Conservatoire national Regional de Lyon 2002-2006 | CNSM de Paris 2006-2009 Hochschule für Musik Hamburg 2009-2011 | Essen Folkwang Universität der Künste 2011-2013 | Kronberg Academy 2013-2017
Teachers: Maris Vaitsner | Claire Bernard | Boris Garlitsky | Michaela Martin | Eduard Wulfson
Website: In maintenance, ready in April
Facebook: Marc Bouchkov - Violinist
Instagram: @marcbouchkov