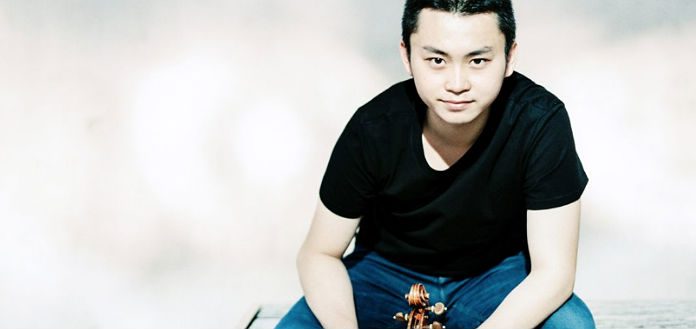 20-year-old Chinese violinist Ziyu He is firmly establishing an international reputation as an emerging young virtuoso of exceptional promise.
A student of Benjamin Schmid at the University Mozarteum Salzburg, Ziyu is a former 1st prize winner in the Senior Division of the Menuhin Competition, the Zhuhai International Violin Competition and the Eurovision Young Musicians Competition.
His recent engagements include performances with the Vienna Philharmonic, Singapore Symphony Orchestra, Wiener Kammerorchester, Orchestra della Toscana, Orchestra Teatro Petruzzelli, Shanghai Symphony Orchestra, NCPA Beijing, Mariinsky Orchestra and Zagreb Philharmonic Orchestra.
VC YOUNG ARTIST ZIYU HE | BARTOK VIOLIN CONCERTO NO. 2 | LIANG ZHANG & SHANGHAI PHILHARMONIC ORCHESTRA | 2018
VC YOUNG ARTIST ZIYU HE | TARREGA | RECUERDOS DE LA ALHAMBRA | 2018
VC YOUNG ARTIST ZIYU HE, CHRISTOPH STRADNER & CHRISTOPHER HINTERHUBER | TCHAIKOVSKY | PIANO TRIO IN A MINOR | ALTENBERG TRIO | WIENER MUSIKVEREIN | 2018
VC YOUNG ARTIST ZIYU HE | DVORAK VIOLIN CONCERTO | CHRISTOPHER WARREN-GREEN & ROYAL ACADEMY OF MUSIC SYMPHONY ORCHESTRA | 2016 MENUHIN COMPETITION | 1ST PRIZE | 16-YEARS-OLD
VC YOUNG ARTIST ZIYU HE | MOZART | VIOLIN CONCERTO NO. 5 IN A MAJOR | GÉRARD  KORSTEN & VORARLBERG SYMPHONY ORCHESTRA | 2016
VC YOUNG ARTIST ZIYU HE | PAGANINI | VIOLIN CONCERTO NO. 1 | JOJI HATTORI & THE ORQUESTRA SIMFÒNICA DE LES ILLES BALEARS | 2016 | 17-YEARS-OLD
https://www.youtube.com/watch?v=xNVkRy64teA&autohide=1
VC YOUNG ARTIST ZIYU HE | PAGANINI | VARIATION ON 'NEL COR PIÙ NON MI SENTO' | 2016 MENUHIN INTERNATIONAL VIOLIN COMPETITION | 16-YEARS-OLD
VC YOUNG ARTIST ZIYU HE | GERHARD WIMBERGER | TOI, TOI, TOI | 2016 INTERNATIONAL MOZART COMPETITION SALZBURG
Name: Ziyu He
Bow: Thomas Gerbeth: Copy of Tourte
Strings: Infeld Thomas "Rondo"
Accessories: Kin shoulder rest
Teachers: Paul Roczek | Benjamin Schmid | Thomas Riebl
Schools: University Mozarteum Salzburg