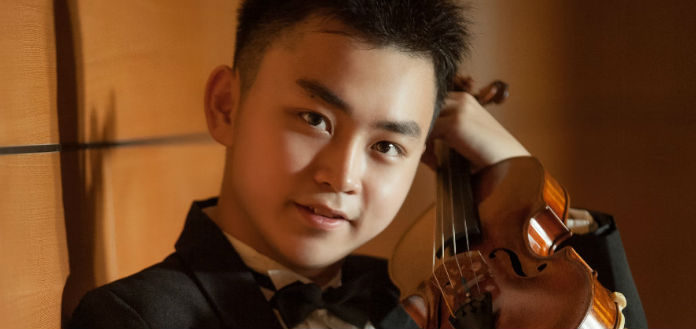 18 year old Chinese violinist Ziyu He is firmly establishing an international reputation as an emerging young virtuoso of exceptional promise.
A student of Paul Roczek and Thomas Riebl at the University Mozarteum Salzburg, Ziyu is a former 1st prize winner in the Senior Division of the 2016 Menuhin Competition, Zhuhai International Violin Competition and the Eurovision Young Musicians Competition.
His recent engagements include a solo performance with the Vienna Philharmonic – and appearances at the Menuhin and Singapore International Violin Festivals.
He currently performs on the 1715 'Schneiderhan' Stradivarius violin – on generous loan from the J&A Beare's International Violin Society, in London.
ZIYU HE | DVORAK VIOLIN CONCERTO | CHRISTOPHER WARREN-GREEN & ROYAL ACADEMY OF MUSIC SYMPHONY ORCHESTRA | 2016 MENUHIN COMPETITION | 1ST PRIZE | 16 YEARS OLD
ZIYU HE | MOZART | VIOLIN CONCERTO NO. 1 | LAVARD SKOU LARSEN & SALZBURG CHAMBER SOLOISTS | 2015 ZHUHAI INTERNATIONAL MOZART COMPETITION FOR YOUNG MUSICIANS | 1ST PRIZE | 15 YEARS OLD
ZIYU HE | PAGANINI | VIOLIN CONCERTO NO. 1 | JOJI HATTORI & THE ORQUESTRA SIMFÒNICA DE LES ILLES BALEARS | 2016 | 17 YEARS OLD
ZIYU HE | PAGANINI | VARIATION ON 'NEL COR PIÙ NON MI SENTO' | 2016 MENUHIN INTERNATIONAL VIOLIN COMPETITION | 16 YEARS OLD
ZIYU HE & TADASHI IMAI | ENESCU | IMPROMPTU CONCERTANT | 2016 MENUHIN INTERNATIONAL VIOLIN COMPETITION | 16 YEARS OLD
ZIYU HE | GERHARD WIMBERGER | TOI, TOI, TOI | 2016 INTERNATIONAL MOZART COMPETITION SALZBURG | 16 YEARS OLD
Name: Ziyu He
Instrument: 1715 'Schneiderhan' Stradivarius – Courtesy of J&A Beare's International Violin Society
Bow: Tourte copy by Thomas Gerbeth
Accessories: FOM shoulder rest, Bernardel Rosin
Teachers: Paul Roczek, Thomas Riebl (viola), Xiangrong Zhang
Comments
comments