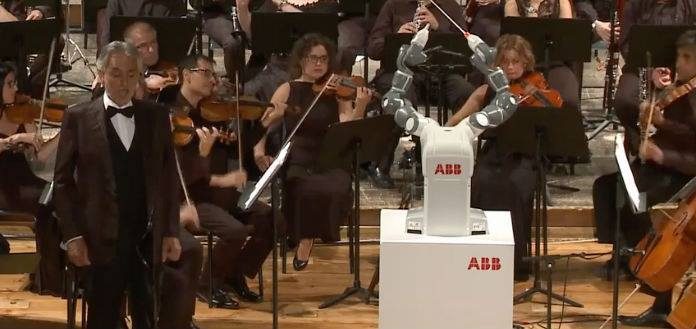 Meet YuMi ... the world's first truly collaborative dual-arm orchestral conducting robot ...
Created by ABB Robotics, YuMi recently made its international conducting debut leading Italian tenor Andrea Bocelli and the Lucca Philharmonic Orchestra - at the Teatro Verdi in Pisa, Italy,
"YuMi has a very high level of fluidity of gesture, incredible softness and expressive nuancing ..." Andrea Colombini, the Orchestra's Director has said.
"This is an incredible step forward given the rigidity of gestures by robots until today ... here we have very advanced technology that guarantees incredibly expressive nuances," he has said.
YuMi | CONDUCTING ROBOT | ANDREA BOCELLI & LUCCA PHILHARMONIC ORCHESTRA